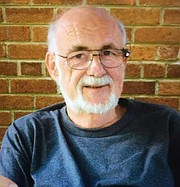 Manfred "Max" Rotermund, son of the late Klaus Rotermund and Elisabeth Volckmar, was born in Sao Paulo, Brazil on May 17, 1945, and died in Alexandria, on Aug. 5, 2018 of heart failure. A memorial service will be held on Saturday, Aug. 18, 2018, at St. Paul's Episcopal Church, 228 S. Pitt Street, in Alexandria, at 11 a.m., with reception following.
Max is survived by his wife Susan D. Dawson of Alexandria; his sister, Renata Carels and husband Robert of Concord, N.H.; brother-in-law Tom Dawson and wife Becky of Winston-Salem, N.C.; his nephews and nieces Margaret O'Donnell and husband Brian of Milton, Mass., and children Abigail and Eliza; Erik Carels of Shoreline, Wash.; Alyssa Carels of Folsom, Calif.; David Dawson and wife Pamela of Nashville, Tenn.; and John Dawson and wife Sara of Los Angeles, Calif. and children Taylor, Carter, Ethan, and Sophia.
Max lived in Sao Paulo and Rio de Janeiro while in Brazil. He came to the United States in 1954 and lived in Lenox, Mass., at Windsor Mountain School where his mother worked, and graduated from there in 1962. He attended Antioch College in Yellow Springs, Ohio, where he graduated in 1967 with a major in political science. He went to Laos with International Voluntary Services (IVS) from 1967 to 1969, where he taught English. Max attended the University of Massachusetts, where he graduated with a Master's degree in social psychology in 1972.
The major part of Max's career was as a government consultant in the DC area; he moved to Alexandria in 1978. While working as a contractor for 8A (minority companies), he provided policy, project, program evaluation and management analysis services to a number of U.S. Government agencies.
He also conducted research on the definition and effect of freedom, which was his true passion. In 1999, using his model of freedom, the Strategic Studies Institute of the U.S. Army War College published a monograph that he wrote called "The Fog of Peace: Finding the End-State of Hostilities"; this monograph was circulated with accolades from the Chairman of the Joint Chiefs of Staff, Henry H. Shelton; the United States Army Chief of Staff, Eric K. Shelton; and Department of the Army Deputy Chief of Staff for Operations and Plans, Major General John R. Wood.
Max's other activities included teaching at the George Mason University Osher Lifelong Learning Institutes, writing biographies for Alexandria's Living Legend program, teaching at American University and Antioch University in Columbia, Md., where he met his wife Susan while she was his student. Max's other activities included Immanuel Church-on-the-Hill's Pumpkin Patch and School for the Spirit program; and at St. Paul's Church, receptions for choir evensongs.
In lieu of flowers, memorial contributions may be made to the Music Program of St. Paul's Episcopal Church ("Music Program" in memo line. See www.stpaulsalexandria.com/ministries/music/), or to International Voluntary Services, with checks payable to "IVS in Development" (with "The Fortunate Few book support" in the memo). The address is Mike Chilton, 3533 Ridgeway Dr., SE, Turner, OR 97392.