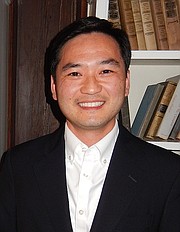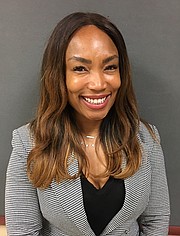 A senior aide on Capitol Hill, Sang Yi is unable to accept his $12,000 annual salary as a member of the Fairfax City Council. So at the July 24 Council meeting, he introduced an appropriation resolution donating $10,000 of it to American Legion Post 177 in Fairfax and $2,000 to Yellow Ribbons United.

"While it's a unique circumstance that's led to my inability to accept my salary, I wanted to ensure that the money went to support veterans-related causes," he said. "I really believe it's a privilege to serve as an elected official, and I couldn't imagine a better way to honor and support those who serve and sacrifice everything for our nation."
Yi said he chose these two organizations because "What they do for our community is, in my mind, one of the most important volunteer and charity efforts we have in our area. Of the more than 725,000 veterans in Virginia, almost 72,000 people who have served, or do currently, call Fairfax home."
IN THE CITY OF FAIRFAX, alone, he noted, "We are estimated to have 1,610 veterans – which is almost 7 percent of our City's population. After all of the sacrifices made by our veterans, we still see veteran homelessness, unattended mental illnesses and other hardships by our veteran community and their families."


"And that's why American Legion Post 177 – which has been around since, I believe, the mid-1940s and boasts over 1,000 members – is such an important institution in our community," continued Yi. "Post 177 provides countless benefits to our community through its support of Boy Scouts, Civil Air Patrol, Disabled American Veterans and the sponsorship of Honor Flights."
Likewise, he said, Yellow Ribbons United has "one of the most inspiring stories of how the Dockery family came to start the organization and support military families. Emma and Derrick Dockery are truly selfless individuals who both come from military-family backgrounds and devoted themselves to encouraging appreciation for the sacrifices faced by our veteran families."
Even though a professional prohibition led Yi to seek an alternative use for what would have been his salary as a Councilmember, he stressed that, as a Navy reservist, himself, he's "extra proud to be with a Council comprised of people who truly appreciate our veterans and are so willing to help support those who sacrifice so much for our nation."
He thanked his fellow council members for considering his resolution about something so personally important to him. He also said he was confident that, if it passed, both Post 177 and Yellow Ribbons United would find great use for this money to support America's veterans. And he thanked these organizations "for all of the work you do and your tireless efforts."
Before the Council voted on the resolution, two people spoke in favor of it during the public hearing. Jeffrey White, commander of American Legion Post 177, said the funds "will be used widely for good work in the City of Fairfax."
And Emma Dockery said her father proudly served 30 years in the military, and Yellow Ribbons United was started six years ago when her brother David died. It now serves more than 3,500 people annually and, she said, "It's a privilege and an honor to be part of a military family."
THE COUNCIL then unanimously approved the resolution. Afterward, outside the meeting room, she spoke a bit more about her family and what her organization does. Her husband Derrick was a former offensive lineman with the Washington Redskins, Buffalo Bills and Dallas Cowboys.
After he retired from the NFL in 2013, he got a master's degree in business administration from GWU, interned on Capitol Hill and later worked with Yi on the Oversight and Reform Committee. So the Dockerys invited him to one of their events so he could see firsthand what Yellow Ribbons United does for military children and families.
"We provide fun and engaging opportunities, such as birthday parties at an American Girl store and holiday parties for children with deployed parents or those who have lost a loved one," said Emma Dockery. "We also have brand and sports partners like the Redskins. So, for example, we were able to have a fun outing at Redskins Park with the players and children."
Besides that, she said, "We also provide an opportunity for civilian children to give back and volunteer – and, ultimately, thank military children for their sacrifices, too. Sometimes, these kids have to grow up way too fast – dealing with loved ones who are gone for a long time, don't come home or come home differently from the way they were before leaving."
"So we try to create good memories for them and bring joy to children who often sacrifice so much on behalf of our country," continued Dockery. "And we as a community get to thank both military children and their families in a tangible way."
Pleased with Yi's donation to Yellow Ribbons United, she said, "Sang is a tremendous individual who not only demonstrates his leadership with words, but even more with his actions. We are so grateful for his continued support and belief in our mission to serve those who serve this great nation."