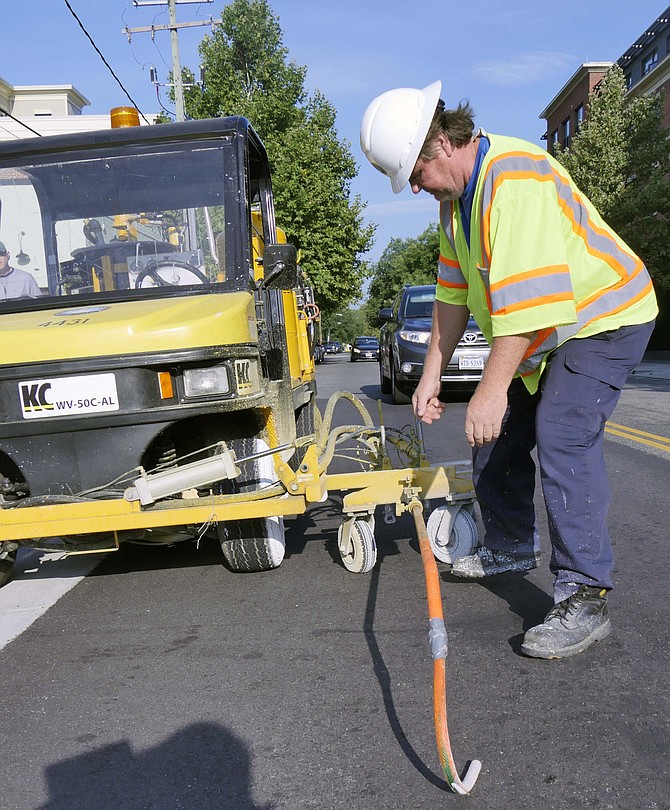 Eddie Billmyer has driven from Spotsylvania at 1 a.m. to get the City of Alexandria paint vehicle ready to begin work at 3 a.m. Painting has been on and off because they can't paint lines if the ground is wet. Normally the paint dries in 5-10 minutes but if the ground is wet, it won't dry correctly. Billmyer will paint until 7 a.m., and then do his other duties until 11:30 a.m., when his shift ends for the day.
Billmyer mixes and loads the paint, calibrates the paint guns and makes sure everything is right to meet the specifications for the highway. He unfolds the alignment bar beside the vehicle and climbs through the doorless entry to his seat.
He will slowly move down the street to apply the paint at just the right speed for the 4-inch skiff lines. Billmyer is followed by two "chase cars," one to place orange warning cones and one to direct traffic. He explains a skiff line is a broken white line. "This is more difficult than using yellow paint, which is for continuous straight lines. We can use up the 800-gallon barrel of yellow paint in a morning because there's no spaces."
Kevin Gaskins, who drives the Arrow Board directional truck following Billmyer, says, "We just did most of Duke Street this morning." While he is driving, Gaskins works levers that control the directional arrows, signs and lights that advise pedestrians and drivers that there is a paint truck ahead.
Billmyer says it is easier to paint at night when there isn't much traffic. He has a bead hopper that gives a reflection off the line at night that helps him to see. But in the daytime, "See today; you got to watch out for pedestrians and traffic." He heads down Madison Street toward the river.
Richard Aslanian, assistant superintendent, T&ES/Traffic Operations, says, "Billmyer is our best driver. It is tricky. You have a guide steel rod with a hose to line up the paint. We didn't have a lot of experience with this and got a manual shift machine that he has to operate." Aslanian adds, "Eddie has to be able to keep an eye on the guide, go the right speed and flick the switch so the paint comes out."
Billmyer says, "It took me 10 years to get good."
Has he ever painted a crooked line? "Oh yeah. We go back with black paint." Gaskins says, "A lot of times the first line isn't always neat. It squirts out or doesn't spray right. But Billmyer does it real straight. He perfected it."
Billmyer has been a traffic safety worker 3 with a specialty in paint for 15 years, having transferred from a position as a land surveyor for the city. Billmyer says sometimes they run up to October. "We try to do two seasons now, spring and fall." During the rest of the year, he installs metal signs or temporary paper signs for things like construction.
He has finished the mile segment on Madison Street, an unusual daytime painting. Billmyer turns off the engine for the whole platform, pulls up the carriage and locks it down. He will return to the Traffic Department to rinse it out until tomorrow, that is if it doesn't rain.