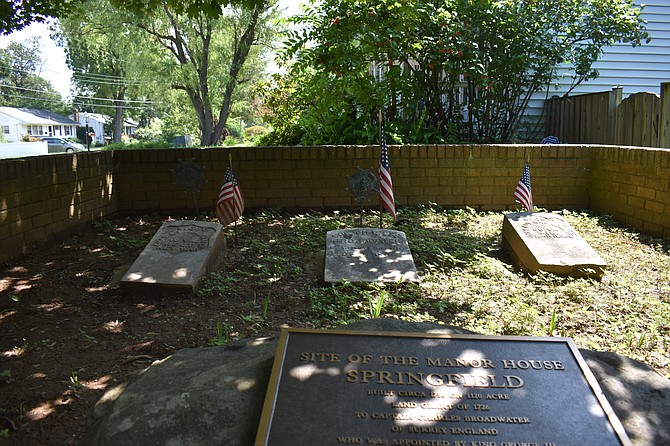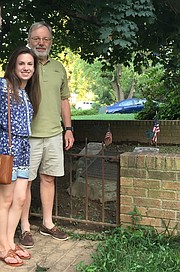 When Mallory Bowling was in high school, she danced at Cuppett Performing Arts Center in Vienna nearly every day. What she didn't know was that all of those days, she and her parents were driving right past the resting place of her 8th great-grandfather, Colonel Charles Broadwater.
"We would drive right by there and never knew that there was that grave, or certainly that we had any relationship with him," Bowling's mother, Jo Ellen Morell, said.
Bowling found on ancestry.com that she is related to Colonel Charles Broadwater, thought to be the first permanent settler in what is now the Town of Vienna. As Bowling and her parents researched, they learned that Broadwater fought in the French and Indian Wars and was in charge of a recruiting office in Falls Church during the American Revolution. He also served as sheriff of Fairfax County and a Justice of the Fairfax County Court. Broadwater knew George Washington, and both men were selected as delegates to the First Virginia Convention in 1774.
Broadwater's descendants traced their lineage to him through Mabel Mahan, Bowling's father's father's mother. Mahan died when her son was eight years old, so he didn't know much about her. In fact, now, the only thing that Bowling's parents have of hers is a small piece of pottery.
The family went from knowing the least about Mahan, compared to their other ancestors, to knowing the most about her through their research about her lineage.
"It was interesting," said Jay Johnson, Bowling's father. "Through these searches, we were finding out stuff that I never knew about even two generations, three generations back."
This discovery has helped the family feel closer to its roots and understand where they came from. Bowling said she wants to pass this information on to her future children and grandchildren.
After years of driving past Broadwater's grave without knowing it, Bowling said she and her family are now going to visit regularly to pay their respects.
"Now that we know where their grave sites are, it's something that we're going to make sure is maintained, and really honor them by bringing flowers on things like Veterans Day and Memorial Day," Bowling said. "We have a lot of ancestors that we don't know where their graves are located, and the ones that we do, a lot of them are not anywhere remotely close, so this is very special to have."