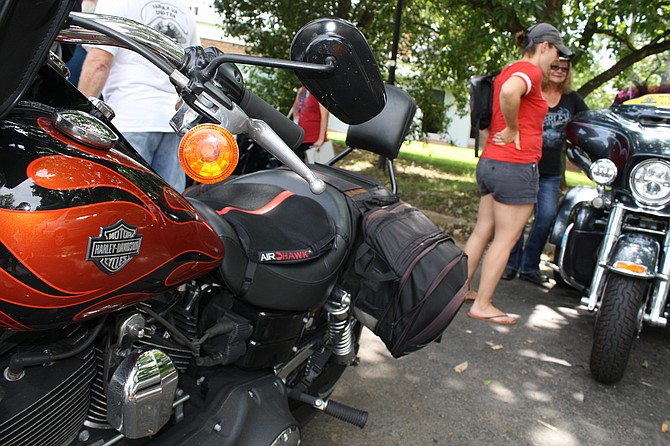 Springfield — Brothers Alex and Thomas Bateman were sitting on a shiny Harley Davidson in the Pohick Library parking lot with big smiles as mother looked on. "My youngest loves motorcycles," she said.
Kids on bikes was the highlight of the library's "Motorcycle Show and Tell," event, featuring Harley Davidson motorcycles from the Fairfax Harley Owners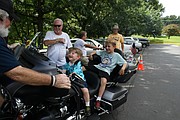 Group (HOG), based at Patriot Harley Davidson in the City of Fairfax. Thomas Bateman, 6, describes his experience gripping the handlebars. "It was kind of cool," he said.
It was that kind of laid back event with about 15 motorcycles parked in shady spot of the parking lot, flags flying and bike talk going on amongst the riders. The local HOG chapter has about 700 members who mostly live in the City of Fairfax and the surrounding county, and visit several of the libraries, doing these kind of events throughout the summer.
"We stand for the fallen heroes that have died for this country, we take pride in it," said Frank Proctor.
Since 1999, the HOGs have ridden in Rolling Thunder, a motorcycle event on Memorial Day that starts in the Pentagon parking lot, and heads across Memorial Bridge into the mall area of Washington, D.C. The Fairfax HOG group calls their part of it "Ride of the Patriots." Traffic on I-66 is stopped momentarily and there is a police escort for the motorcycles into the Pentagon parking lot.
Steve Fred is a Vietnam Veteran who served in the Air Force on a refueling jet. "We refueled the fighters over the combat zone," he said. After the Vietnam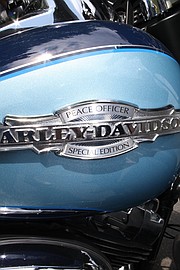 War, some of the veterans coming home took up motorcycle riding as a way of dealing with the trauma. "It clears your head," Fred said.
The HOG chapter does benefit rides all year for other groups such as Jill's House, Boldercrest, Operation Atlas and the Officer Down memorial ride. On Sept. 30 this year, they are scheduled to ride in a benefit for the Children's Museum in Prince William County.