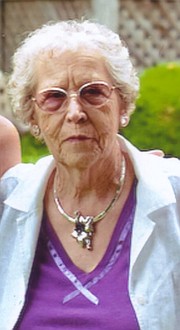 Lifelong resident and community historian, author and advocate, Margaret Cockerill Peck, age 92 died Monday, Aug.13 at her home in the Floris community of Greater Herndon. She was born on Dec. 6, 1925, and was the wife of the late Howard Benjamin Peck, a local dairy farmer.
Throughout her adult life, Peck possessed a passion for education, history and preservation. She was an elementary school teacher, and later manager of the Fairfax County Park Authority Sully Historic Site from 1976-1988.
In the 1950s, a portion of the Peck family dairy farm was acquired by the Civil Aeronautics Authority and lost in the construction of Dulles International Airport. Later, Peck advocated and was partially responsible for saving the Sully Plantation historic site from becoming part of the buffer area for Dulles Airport. She and her husband Ben also advocated for the preservation of the Frying Pan Farm Park School House and its Meeting House and she worked with Frying Pan Farm Park staff on the park's Master Plan.
According to Fairfax County Park Authority, Peck retired from the Sully Foundation Board in 2012 after giving 40 years of service to the Park Authority, the Sully Foundation and the community. In a FCPA article dated, June 7, 2012, the Park Authority stated: "Peck served 18 years with FCPA (including the manager position at Sully from 1976 – 1988) and 22 as a board member of the Sully Foundation, Ltd. and was their Treasurer for 10 years." Peck also served on the Fairfax County Historical Commission and the Fairfax County Tourism Advisory Group; she was an active member in the Daughters of the American Revolution and the Historical Societies of Herndon and Fairfax County.
Peck authored two books describing the early days of Herndon and the surrounding communities, "Around Herndon" and "Washington Dulles International Airport, Virginia (Images of America Series)," both of which are available on Amazon. She was a contributing author and editor for "Voices of Chantilly, Recollections, and Stories from 22 Long-time Residents," "Stories of Floris, Sully: 1794–Stories and Letters," and "Samplings from Sully's Hearth." In addition to her other endeavors, Peck and her husband were avid gardeners and frequently opened their property to friends and the public to view the beds and give gardening tips.
Peck's daughter Ann Howard Peck, her son, G. Byron Peck and her sister Sarah Latham, survive Peck. Services were held Thursday, Aug. 16 with burial at Chestnut Grove Cemetery in Herndon.