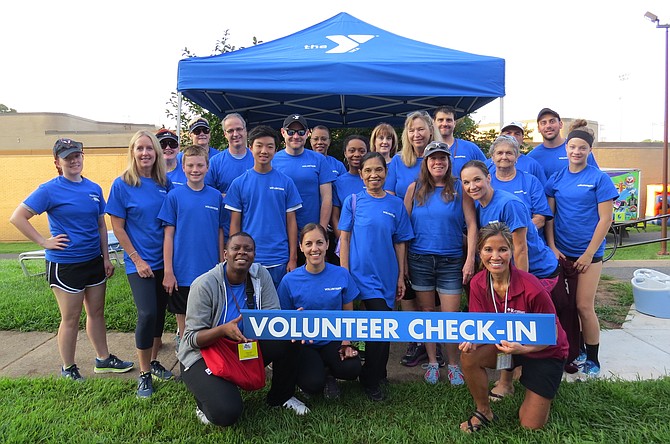 Can you imagine what Reston would be like if no one volunteered? Think about a community without all the volunteer-based clubs, businesses, groups, organizations, non-profits, events, committees, etc.…Fortunately for us, Reston has a history of volunteerism that is still going strong. That's what makes Reston great!
Volunteer Reston is a network of community members who come together to complete various projects to improve our surroundings and bring the Reston community together. Housed under the Reston Association, Volunteer Reston hosts efforts in hopes for bringing the Reston community closer
Our mission is to enhance Reston Association's services and programs by matching the varied talents of individuals and groups of all ages, interests and skills to a variety of engaging projects and endeavors.
Why Volunteer?
Volunteers play a critical role in helping Reston grow. Whether you are hoping to meet new people, spend time with friends, learn new skills, make a positive impact in your community or complete school service hours, Volunteer Reston has something for everyone. Regardless of the motive, Reston Association volunteers all have one thing in common – they are all helping to make Reston a better place to live, work and play.
RA volunteers have a variety of ages, skill levels and personalities. Volunteers include senior citizens, corporate teams, faith-based groups, families, college students, retirees, scouts and youth.
There are several ways to get involved. Some events happen frequently, whereas others happen on an annual or even one-time basis. Our recreational, environmental and administrative projects enable volunteers to meet other locals and learn more about Reston's growing community.
Reston is often praised for its trails, lakes and landscape. To preserve Reston's natural beauty, regular maintenance is essential. Consider supporting habitat restoration, watershed cleanups and other workday projects by signing up for an upcoming opportunity.
Opportunities include Habitat Heroes, stream monitoring, watershed cleanups, Walker Nature Center assistance and other workdays.
To get involved, complete a one-time Volunteer Application found online at www.reston.org, and contact Ha Brock, Volunteer Reston Manager, at habrock@reston.org with your interest.
Environmental Work
Out of all the volunteer opportunities Volunteer Reston offers, environmental work is the most laborious. However, this makes it one of the most meaningful and investing.
Work may include removing weeds, identifying invasive vegetation, planting seedlings, clearing trails, collecting trash and handling tools. Supplies are provided and are often used. With training, volunteers might be tasked with using wheelbarrows, brooms, trowels, shovels, rakes, pruning shears, gardening tools, hand picks, pitchforks, weed wrenches and hand saws.
Workdays range from two to eight hours on any given day. Training is provided onsite by RA staff. Supplies, food and water are also available.
Join the Community
Reston Association frequently hosts community events throughout the year. These events allow Reston locals to meet, network, share stories and work together with camaraderie and stewardship.
Events include the Multicultural Festival, Halloween House & Trick-or-Treat Trail, Community Events and Spring Festival.
To learn more about upcoming opportunities, complete a one-time Volunteer Application found online at www.reston.org, and contact Ha Brock, Volunteer Reston Manager, at habrock@reston.org with your interest.
Corporate Service Projects
Volunteer Reston offers expertise in community service to corporations by creating customized projects that complement team building, leadership development and philanthropy initiatives. Philanthropy comes in various ways: from event sponsorship, monetary donation, in-kind contributions and employee volunteerism. Opportunities for support are numerous and we would be delighted to connect with corporations to customize an opportunity beneficial to your philanthropic goals. We make it easy for your company to volunteer by managing the process from A-Z.
Connect with Volunteer Reston on Social Media
Following our accounts is a convenient way to stay in touch with Volunteer Reston. Get the latest updates and share your experiences today.
www.facebook.com/VolunteerReston
Instagram @Volunteer_Reston
Twitter @VolunteerReston
If you are interested in finding out more about Volunteer Reston, contact Ha Brock, at habrock@reston.org or visit our website at www.reston.org.
Ha Brock is Volunteer Reston Manager and Jackie Reed is Volunteer Reston Assistant.