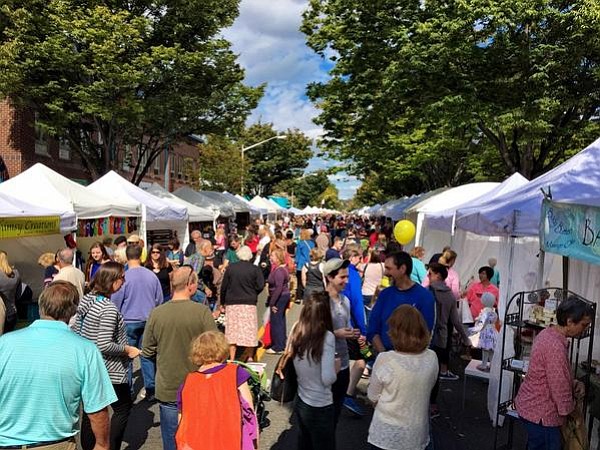 Living in the shadow of the nation's capital, acronyms such as DoD, NSA and DHS are a part of the daily vernacular. Alexandria has its own set of acronyms, from AEDP to WEBA, which represents organizations and various business associations that span every corner of the city.
Some, like the Chamber of Commerce, have been around for over a century, while others, like the Capitol Post, represent the needs of the city's shifting demographic.
"Capitol Post offers military veterans and spouses in the Washington, D.C. region personalized guidance through mentoring, business counseling and access to key resources, programs, mentors, and co-working space," said Capitol Post executive director and West Point graduate Emily McMahan. "Our mission is to establish and cultivate the top community for veterans to start a business, grow a business, explore a new career and get involved locally."
The Capitol Post is located at 625 N. Washington St., Suite 425. 703-652-5377 or www.thecapitolpost.com.
Visit Alexandria
Visit Alexandria is the city's tourism marketing agency and attracts visitors to the city through sales and marketing programs. The Visitor's Center is located at 221 King St. with administrative offices at 625 N. Washington St., Suite 400. VisitAlexandriaVA.com
Alexandria Economic Development Partnership - AEDP
Founded in 1992, the Alexandria Economic Development Partnership promotes commercial spaces and economic opportunities in the City of Alexandria as the city's primary engine for economic development. AEDP serves as the leading resource for economic data, customized reports, development maps, real estate insights and information on tax and financial incentives for businesses and commercial real estate professionals. 625 N. Washington St., suite 400. 703-739-3820 or www.AlexEcon.org
Alexandria Chamber of Commerce
Alexandria is home to one of the largest chambers in the Greater Washington region, with 850 professional business members and partners employing more than 49,000 people region-wide. Founded in 1906, it serves as the voice of the business community in the City of Alexandria through aggressive lobbying efforts at the local, state and federal levels. 2834 Duke St. 703-549-1000 or www.alexchamber.com
The Del Ray Business Association - DRBA
The Del Ray Business Association is run by volunteers who are themselves business owners. Started almost 45 years ago, DRBA now has over 200 members and sponsors several events in the Del Ray community each year. www.visitdelray.com.
Old Town Business and Professional Association - OTBPA
Open to businesses of any type, OTBPA is the result of a merger of two organizations – Old Town Business (OTB) and King Street Metro Enterprise Team (KSMET). OTBPA's most visible project is the annual Alexandria Retail Coupon Book.www.otbpa.com
Alexandria Small Business Development Center – SBDC
The Alexandria Small Business Development Center is Alexandria's economic development program that focuses on small businesses, which comprise the largest segment of Alexandria's economy. SBDC offers individual and confidential assistance without cost to City of Alexandria businesses and Alexandria residents with businesses elsewhere. 625 N. Washington St., Suite 400. 703-778-1291 or www.alexandriasbdc.org
West End Business Association - WEBA
The West End Business Association is comprised of West End Businesses and those that do business on the West End of Alexandria. WEBA provides members with networking opportunities, education and growth opportunities and representation before the City and economic development officials on matters important to the West End of Alexandria. www.alexandriaweba.com
Eisenhower Partnership
The Eisenhower Partnership is a group of commercial and residential property owners and occupiers along the Eisenhower Avenue Valley corridor. The Valley is anchored in the East by the Patent and Trademark Campus and in the West by the Victory Center development/Van Dorn Metro Station. www.eisenhowerpartnership.org
Carlyle Council – CCC
The Carlyle Council oversees the open spaces, parks and community amenities in Carlyle. CCC serves as the business and community development organization for Carlyle and advocates on behalf of Carlyle stakeholders on matters impacting the community.
www.thecarlylecommunity.com
Old Town North Community Partnership – OTNCP
The Old Town North Community Partnership seeks to encourage the blend of residential and businesses uses in Old Town North, and make improvements in the area's quality of life through a partnership of residents and businesses working together on common goals. The community includes North of Oronoco Street to Alexandria's northern boundary.
www.oldtownnorth.org