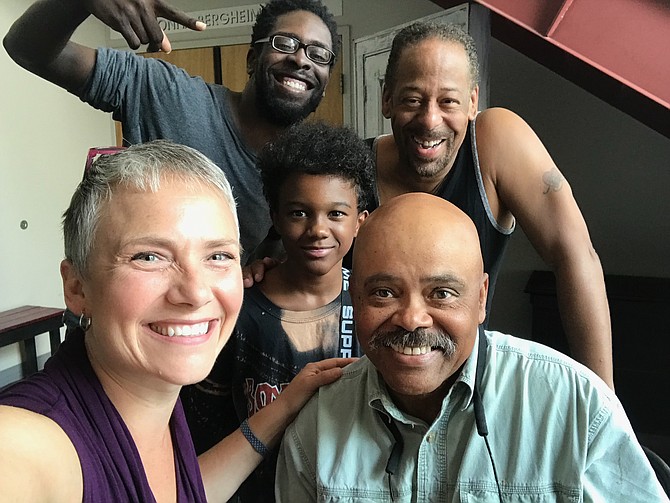 MetroStage in Alexandria is opening its 2018-19 season with "The Painted Rocks at Revolver Creek" by Athol Fugard from Aug. 30 to Sept. 30.
The play, directed by Artistic Associate Thomas W. Jones II, was inspired by the life of outsider artist Nukain Mabuza. In the play, Fugard depicts both the brutality of apartheid in the 1980s and the violence and ingrained patterns that continue to impact post-apartheid South Africa as well. The farmer's painted flowers and images of the rocks dotting the fields represent an abstract vision of the painter's life. And the interaction with the wife of the farm owner depicts South Africa yesterday and today as it struggles to reconcile its past and its future.
According to Producing Artistic Director Carolyn Griffin: "MetroStage has been associated with Athol Fugard plays since 1987 when we opened our first season in our first theatre (remember that strip shopping center on Duke Street across from the King Street Metro?) with 'Blood Knot' with Bill Grimmette and Nat Benchley, both of whom received Helen Hayes nominations in that two-hander. We followed with Fugard's 'The Island,' 'Sizwe Bansi is Dead' and 'Boesman and Lena,' all timeless plays that continue to be produced today. We followed our Fugard phase with the U.S. premiere of 'Mooi Street Moves,' by South African playwright Paul Slabolepszy, a playwright discovered by my daughter Jennifer Griffin when she saw his play and met him at the Market Theatre in Johannesburg. So, it is only fitting that as we approach our final season in our theatre here in North Old Town we would return to this iconic playwright."
Griffin said with "The Painted Rocks at Revolver Creek" being Fugard's most recent play, it is a fictionalized version of the life of farmer and outsider artist Nukain Mabuza, and his second play inspired by an outsider artist ("Road to Mecca" about Helen Martins and her "Owl House" being his first).
In "Painted Rocks," Fugard covers two decades of South African history placing the first act in 1980 under apartheid rule and then the characters' return 20 years later in post-apartheid South Africa. "It is a fascinating study of the impact of apartheid on both the farmers as well as the farm owners, through the lens of the playwright," she said.
Jeremy Hunter plays the role of Jonathan Sejake who is first experienced as an 11-year-old referred to as 'Bokkie.' The only real understanding of him is from his relationship with Nukain (his Tata or Outa). "It is your typical loving grandfather/grandson relationship, but what is most intriguing is the activity that is happening onstage," he said. "Bokkie is assisting Nukain paint 'The Big One'... a big rock at the top of the hill. As they talk and work, Bokkie witnesses a transformation in Nukain. The revelation is staggering for Bokkie, but it causes him to see Nukain in a completely new light; with tremendous pride and dignity. This is shattered, however, when Mrs. Kleynhans interrupts their work," he said.
Following the events that transpire, Hunter said the audience doesn't see Nukain or Bokkie again for some time. Twenty years pass, Nukain has died, and Bokkie (who ran away from their home) is now returning a man. Seeking resolution and closure, Jonathan's journey has led him from apartheid South Africa to the newly liberated Zimbabwe and back again. Weathered, wise, and kind; Jonathan returns to explain the transformation and tell the story of his beloved Nukain.
Hunter said the challenge for him was creating the South African accent. "I've never been as immersed in a culture as to adopt an accent and the process has been jarring. Trying to remember the sounds words make; the placement of it in the mouth and body; it is extremely challenging," he said. "Even more so the fact that South Africa has 11 languages that are spoken and my character lived both here as well as Zimbabwe, which has its own dialect and flavor. Everything else for me has been, lol, relatively simple in comparison to this," he said.
Marni Penning Coleman plays the role of Elmarie Kleynhans, an Afrikaner in her 40s who has grown up in South Africa and never known any way of life except the "way things are" in apartheid-era Revolver Creek. "She is the wife of 'Baas Hennie,' who runs the farm, and is a devout Christian who is sure that God will protect her and the people she loves from 'the trouble they are having up there in Johannesburg.' She thinks she is doing all the right things, but is fully benefiting from the oppressed society in which she lives," she said.
Fast-forward to post-apartheid South Africa in 2003 in the second act, and she's now in charge of the farm. But her faith is faltering as, like a modern-day Job, she sees the privileged life and society she's come to rely upon crumbling around her, and God seemingly nowhere to be found. Confronting "someone she used to know," she struggles to understand her place and role in the "story" of their "New South Africa."
She adds: "The sincere challenge of this role is not only the Afrikaans dialect (with which, luckily, I have a native Afrikaner who lives in D.C. to help me), but also playing someone who holds onto the belief that she has every right to be on land, which was stolen from the African people by her ancestors more than 150 years prior. Interestingly, we're talking about the same span of time that we are now from the American Civil War."
Actor Doug Brown returns to MetroStage having performed in "The Island" and "Mooi Street Moves" previously. Marni Penning played Roy Cohn in last year's "Are You Now or Have You Ever Been," and young Jeremiah Hasty, a rising seventh-grader, was last seen in the world premiere of "Uprising." Jeremy Hunter, last seen at Mosaic Theatre in "Hooded or Being Black for Dummies," is making his MetroStage debut.
MetroStage is presenting "The Painted Rocks at Revolver Creek" from Aug. 30 to Sept. 30. Performances will be Thursdays and Fridays at 8 p.m., Saturdays at 3 p.m. and 8 p.m., Sundays at 3 p.m. and 7 p.m. Tickets are $55 with student and active military and group discounts available with Flex Passes available for four or more tickets. For ticket reservations or information about group sales, call 703-548-9044 or visit www.metrostage.org.