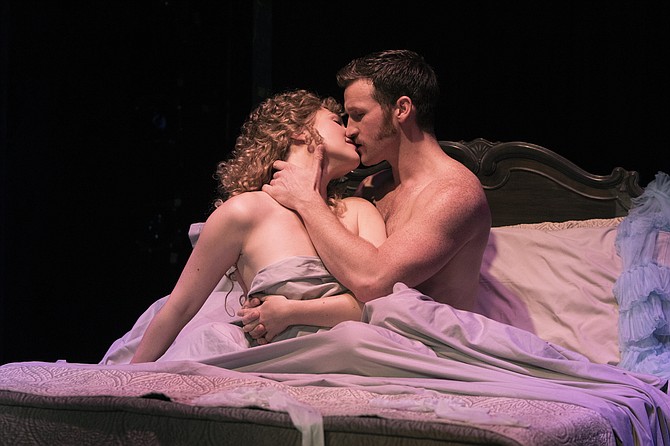 Signature Theatre is presenting Stephen Sondheim's Tony Award-winning Best Musical, "Passion," now through Sept. 23. Set in 1860s Italy, this musical ignites a fiery love triangle when a handsome army captain is transferred to a remote military outpost and into the blinding infatuation of Fosca, the ailing cousin of his superior. Fosca's longing draws him in as it threatens to upend his career in a tangle of obsession, desire, madness, and above all, passion.
The show stars Natascia Diaz ("West Side Story"), Claybourne Elder ("Sunday in the Park with George") and Steffanie Leigh (Broadway's "War Paint" and "Mary Poppins").
Associate Artistic Director Matthew Gardiner said Signature Theatre has a special relationship with the work of Stephen Sondheim. "We are the national leader in producing his work and this will actually be our second production of 'Passion,'" said Gardiner. "The first production was directed by Signature Theatre's Artistic Director Eric Schaeffer and Eric approached me about directing it. I saw Eric's production of 'Passion' at the Sondheim Celebration. It was hugely inspirational and a real defining moment for me as an artist."
He said there have been a lot of misconceptions about the piece. "It has become known as the piece about the obsessive woman who stalks a man and I think that is a profound oversimplification of the story. This really is an examination of love and the expectations that we as a society place on love stories. I hope to challenge an audience's expectations about love," said Gardiner, who also directed "West Side Story," "Sunday in the Park with George," and "Crazy for You."
He added: "This show is incredibly delicate and all of the pieces have to be in order to make sure that it is coming across the way Stephen Sondheim and (author) James Lapine intended. Every musical by Stephen Sondheim is a challenge and an incredible gift at the same time."
Claybourne Elder is playing the role of Giorgio, a soldier who is caught between his love for Clara, a married woman, and a woman he meets while on assignment, Fosca. "He is a bit lost in his life when the play starts and through the course of it he learns about self-worth and how to be compassionate," he said.
He said the music was a challenge to accomplish. "It's beautiful, complicated and requires precision but also artistry. Luckily, our music director Jon Kalbfleisch is an incredible guide and teacher through the process," he said.
He added: "This isn't a traditional love story, maybe it's not a 'love story' at all, though it is told through the lens of love. The wonderful thing about this show is that it raises so many interesting questions about the nature of relationships."
Signature Theatre is presenting "Passion" now through Sept. 23. Show times are Tuesdays through Sundays, with matinees on Saturdays and Sundays, at varying times. Specialty Nights include Discussion Night on Sept. 12; Pride Night on Sept. 7; and Open Captioning is Sept. 16 at 2 p.m. The venue is located at 4200 Campbell Ave., Arlington. Call the Box Office at 703-820-9771 or visit www.sigtheatre.org.