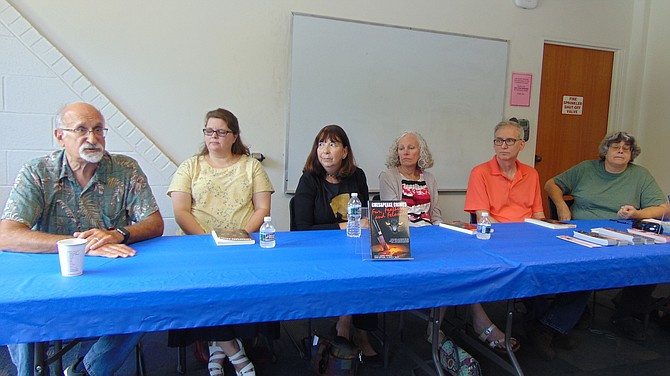 The Chesapeake Chapter of the Sisters in Crime held a coffee and crime discussion of its 10th anthology of stories, "Fur, Feathers and Felonies" – on Saturday, Aug. 25, 2018, at the Lorton Library. The group for women mystery writers was formed 35 years ago when women weren't getting published; it is now open to men as well in the Northern Virginia, Maryland and D.C. area. It publishes a chapter anthology every two years.
The authors talked about their stories and shared insights into the writing process as well as offering writing tips and what inspires them in their work. The group of like-minded writers meets at local restaurants and hosts speakers on criminal topics like cleaning up a crime scene or human trafficking.
CONTRIBUTOR Cathy Wiley, who completed her third anthology, said: "My story is 'Curiosity Kills the Cat Lady.' I am a cat lady and I love cats. I have two. It's the story of a little cat lady who is found dead in her apartment. They realize she's been poisoned. It is a 'who-done-it.' The animals do play a role in figuring it out," said Wiley, who added that deadlines help her with writing.
When he heard that this anthology was being prepared, Josh Pachter, who teaches communication studies and film appreciation at NOVA, got very excited. For his story, "The Supreme Art of War," he said he took an idea that did not have an animal in it and put in a nasty little cat called Mister. "What the story is about is the narrator Eddie is asleep in bed and hears a noise, and trips over the cat. Eddie takes on the challenge of subduing a would-be house breaker without fighting," said Pachter, an editor who translates books from Dutch, Flemish, Spanish and Afrikaans.
Karen Cantwell is a fan of classic Hollywood movies from the 1930s-40s, so she wrote "Sunset Beauregard."
"What I found fascinating was back then they had Hollywood fixers who would go in and fix anything with the stars. They would fix it so that the headlines would depict an entirely different story. I was fascinated by the idea of what actually happened and what the papers reported," she said. Her story also has an animal angle to it.

In recommending short stories that inspired them, Robin Templeton, a wedding photographer, said she was fascinated by Edgar Allan Poe's dark mind; Cathy Willey cited Agatha Christie's "And Then There Were None;" Karen Cantwell mentioned Hemingway's "The Snows of Kilimanjaro;" and Josh Pachter, who's been writing for 50 years, cited "The Specialty of the House" by Stanley Ellin.
The writers also shared tips that help them with the writing process. A method that Robin Templeton uses is to complete a weekly word count of 6,000 words as a measure. "I keep in mind that I need 6,000 words by the end of the week and that seems to work for me because sometimes I'll get a day off," she said.
Writer/editor Donna Andrews, who's been published 23 times in the series, said they receive between 36-60 submissions from writers for the anthologies, which each have separate themes. She said it takes a 50,000 minimum word count to make a book publishable and they try to fit in as many stories as possible – usually 12-18, with a maximum word count of 5,000 to 6,000 words each. Andrews used to work for Sallie Mae and quit her day job to write full time.
THE CHAPTER has more than 100 members, and some are fairly new writers. On editing the writers, Andrews said: "We had one story that had a murder method that was physically impossible and it was the entire point of the story; there are some stories that have plot holes. So, we'll tell them how to fix it."
For more information on the Chesapeake Chapter of the Sisters in Crime, visit their website: www.chessiechapter.org.