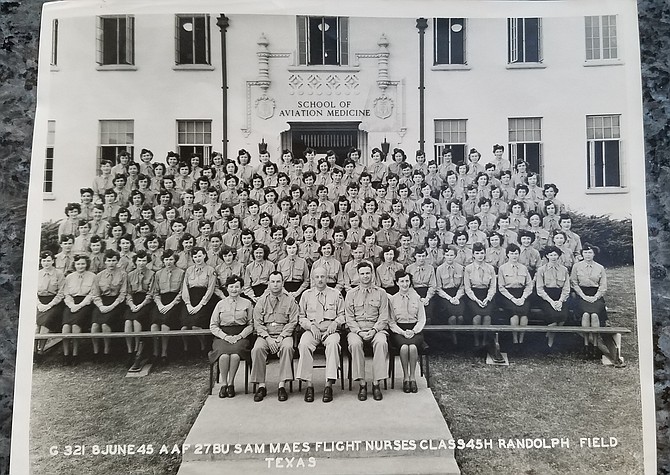 "Mother used to love to tell stories about her time in Karachi." —Susan Joyce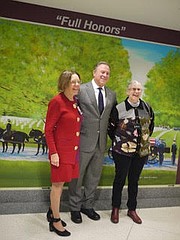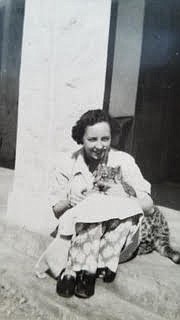 First Lieutenant Louise Rand tended the wounded on flights out of Karachi to Cairo in the Pacific Theater of World War II. She was a favorite among the soldiers and the pilots. "She was in high demand because of her fudge, which she made on a little stove on the plane," said her daughter, Susan Joyce. She did that when she wasn't changing bandages or calming down a scared 19-year-old.
"I asked her once if she had been scared herself," said Joyce. "No," her mother had replied. "We were far too busy caring for the wounded to even be aware of our own danger."
Rand graduated from the Ruth Brandt School of Nursing and the U.S. Air Force School of Aviation Medicine in June 1945, and served in WWII as a 1st Lieutenant in the Army's 830th Medical Air Evacuation Squadron. She told her daughters, "This large class was established in anticipation of the end of WWII and emptying out all the medical theaters of operation. After the graduation, everyone returned to their base. However, 12 out of 137 were chosen and given orders to travel. I was one of the 12. The only hint of the direction of travel was being sent to the east coast (Fort Tilden, N.Y.) You boarded the plane without being given your orders so you didn't know where you were going and couldn't give away information. We stopped in the Azores to fuel and eat and then on to Casablanca. (We got off the plane and saw all the people in long robes and that's how we knew where we were.) We traveled from the airport to temporary quarters in Casablanca. After we arrived in Casablanca, we were informed that four nurses would remain in Casablanca, four would be assigned to Cairo and four to Karachi. We could choose where to go. I had no preference and took what was left — Karachi."
According to her daughter, Lark Shlimbaum, Rand tended the wounded coming from the Pacific Theater. "Japan didn't surrender until September 1945 and it was safer and more comfortable to go west to get back to the United States. After the USS Indianapolis was sunk, there was still a fear of submarines in the Pacific and going east also meant a lot of tedious island hopping. Going from the Philippines to Karachi to Cairo and then west home from there was the preferred route for the wounded. "It seems wartime duty was not all hardship. The pilots had to keep up their flying hours, so they'd often grab a few nurses and fly somewhere to have breakfast. Like Sri Lanka. "Mother used to love to tell stories about her time in Karachi," said Joyce. "She had a snow leopard cub. One of the pilots had her watch him while he was away. She told people who came into her quarters to make sure they didn't move too fast or come up from behind the leopard…he didn't react well to surprises."
The two sisters said their mother left behind a collection of photos of her time in the service. One shows her fully outfitted in her parachute, ready to jump into a pool of water from several hundred feet to practice emergency landings and bailing out. The women wore flight suits, parachutes, and…high heels. Another shows her learning how to fight a fire…in heels.
"She couldn't stay in the army because she got pregnant — with me — and they kicked her out," said Joyce. After separating from the service, she was a camp nurse for the Boy Scouts of America, a pediatric nurse at Meadowbrook Hospital and a public health nurse with the Westchester County Department of Health. Rand also went back to school, graduated from Columbia University Teachers College with a B.S. degree in nursing education, and raised two daughters. She died at age 93 in Bay Shore, N.Y.
Shlimbaum explained their father, Harry Rand, knew he'd get buried in Arlington Cemetery because he was an officer who worked for the Stars and Stripes, the U.S. military's newspaper. Louise Rand was not originally authorized an Arlington burial of her own. The two sisters fought to get Rand her own marker given her service. They prevailed, and Rand was buried at Arlington with a full honors ceremony on May 27, 2015, a ceremony documented by artist Steve Alpert. Alpert had asked to paint the ceremony as part of his quest to honor veterans and portray the emotions of men and women in the military. At a ceremony this year at the Pentagon's Patriotic Arts Program gallery on Nov. 15, to which the two women were invited as special guests, Alpert highlighted the service of Rand, his project to honor vets and teach vets how to paint as part of post-combat therapy, and his admiration for the men and women in uniform who continue to serve. The Pentagon art gallery can sometimes be included on a tour of the Pentagon. See: http://pentagontours.osd.mil and www.stevealpert.com for more.