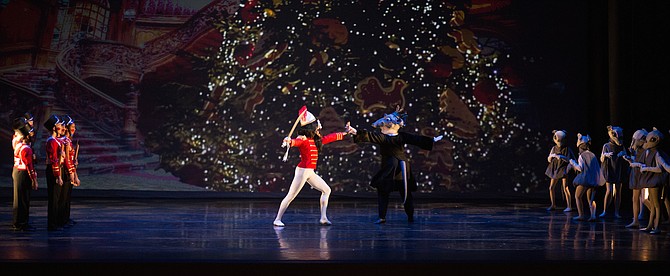 The Fairfax Symphony Orchestra (FSO) and the Fairfax Ballet are combing their artistic forces to present the timeless family classic, Tchaikovsky's "The Nutcracker."
The production will be a musical and dance cornucopia of dancing snowflakes, sugar plum fairies and epic battles between heroic toy soldiers and mischievous mice, but also of a brave young girl who stands up to danger.
"Audiences will delight in The Fairfax Ballet's magical dance performance with original choreography as the Fairfax Symphony, under the direction Christopher Zimmerman, performs Tchaikovsky's captivating score," said Jonathan Kerr, Executive Director, Fairfax Symphony Orchestra.
"We're delighted and grateful that many people from across the region have made this a cherished tradition of their holiday season," added Kerr. "It's certainly rare as one of few 'Nutcracker' productions in the area where Tchaikovsky's beautiful music is performed live by our full orchestra, together with the wonderful dancers onstage. Combining this with high-definition, digital scenery creates a magical experience that is sure to be a highlight for the entire family."

"We're incredibly honored to join the Fairfax Symphony in our fourth annual production of 'The Nutcracker," said Karla Petry, Executive Director of The Fairfax Ballet. "Our dancers will be performing with our extraordinary guest soloists from American Ballet Theatre."
The guest artists are Elina Miettinen dancing the role of the Sugar Plum Fairy and Sean Stewart dancing as the Cavalier. "This provides Fairfax Ballet dancers with a rare opportunity to perform with a live orchestra on the premier stage at the Center for the Arts," added Petry.

Joining Miettinen and Stewart onstage is Jessica Werfel, age 16, of Chantilly. She will dance the role of the young heroine Clara. Carlos Alejandro Martinez Espinosa, attending George Mason University School of Dance, dances the role of the Nutcracker Prince.
Northern Virginia's Veronica Robertson and Dony'ae Bush (George Mason University) will perform the famous, "Arabian pas de deux." Northern Virginia cast members in "The Nutcracker" include as well; Aleksey Kudrin as Herr Drosselmeier, Laura McElhaney as the Mouse King, and Ana Victoria Smith in multiple roles. More than fifty dancers and students from across Fairfax County will perform in "The Nutcracker," the first, major production with Andrea Cook as the Fairfax Ballet's Artistic Director.
Live Holiday season family entertainment at its best; "The Nutcracker" at the Center for the Arts.
Where and When
Fairfax Symphony Orchestra and Fairfax Ballet present "The Nutcracker" at George Mason University, Center for the Arts 4373 Mason Pond Drive, Fairfax. Performance Sunday, Dec.16, 2018 at 4 p.m. Tickets: $49, $69 and $89. Purchase tickets online at www.fairfaxsymphony.org or by phone 703-993-2787.