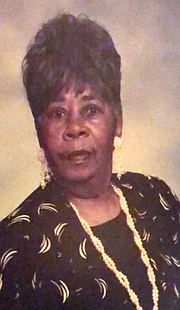 Vivian Louise Brent-Caple, a woman of God, love and wisdom, born to Charlie and Sarah Brent in Alexandria. Vivian's life spanned from Feb. 17, 1928 to Nov. 25, 2018. She was the oldest girl from a family of 12 children.
Vivian was preceded in death by her parents Charlie Brent and Sarah Brent-Smith; brothers: Edward, Robert, Charles, and Wilbert Brent, Donald and Alvin Smith; sisters: Doris Brent, Shirley Tyree, Bernice Majors, Maxine Hackley, and Arelia Douglas; daughter Rebecca "Toots" Caple. She is survived by her sister-in-law Gwendolyn "Peggy" Menefee-Smith; daughter: Sarah Wiggins (Keith); grandsons: William Blake (Selethia) and Howard Eaves, Jr. (Veronica); granddaughters: Tonya Eaves and Nydia Latson; 12 great grandchildren; 15 great great grandchildren, and a host of nieces, nephews, and friends.
Vivian attended Lyles Crouch and Parker Gray High School. She also attended an all business machine school in the Opportunity Industrial Center. She was employed with 1st American Bank which later merged with Union Trust, Union First and 1st Union. Vivian retired in 1989 and began working part-time for Montessori School in Alexandria.
Funeral services for Vivian Caple were held on Wednesday, Dec. 5 at Robert's Memorial United Methodist Church at 606 S Washington St, Alexandria.