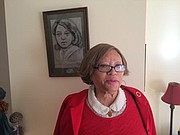 Joyce Ella (Henderson) Greene of Fairfax passed away at Alexandria Inova Hospital on Dec. 13, 2018 after a short illness. She was born in San Antonio, Texas on Feb. 26, 1938 to the late Henry Williams and Rebecca Harris Henderson and raised in San Mateo, Calif. and Kansas City, Mo. She studied nursing Holy Ghost Hospital in Boston, Mass. and practiced nursing before she married Robert Ewell Greene, Sr, an Army officer, on July 4, 1959 in Kansas City, Mo. As an Army wife, she moved around the world and the country, including Germany that she loved so much.
She was later a teacher at PALs Day Care Center in Reston. where she was adored by the parents and children in her care. She will be missed by many for whom her life brought laughter and smiles.

A loving mother, wife, friend and aunt, she is survived by her loving son, David Arthur Greene of Alexandria and sister Rebecca Henderson Smith of Kansas City, Mo. She was predeceased by her son, Robert Ewell Greene Jr. and siblings Carlene Henderson Eason, Carl Henderson, and Hezzie Henderson. She has numerous nieces and nephews, and great nieces and nephews.
Friends and family may visit on Tuesday, Dec. 18 from 6-8 pm at St. John Neumann Catholic Church in Reston, followed by a mass of Christian burial at St. John Neumann on Wednesday, Dec. 19 at 11 a.m.