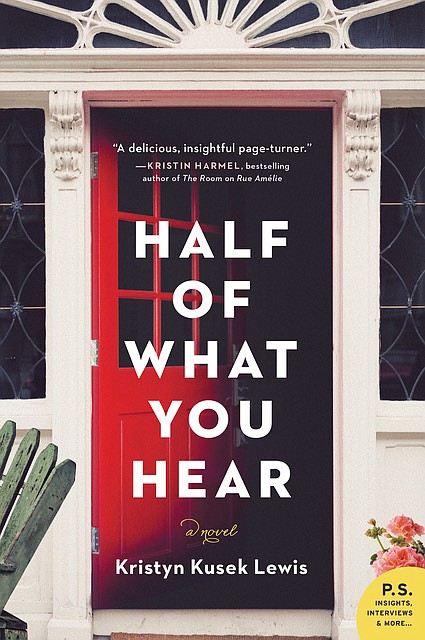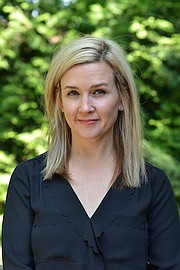 Arlington resident Kristyn Kusek Lewis will be at One More Page on Jan. 10 to talk about her newest book, "Half of What You Hear." Her novels focus on women, their complicated relationships and struggles in their lives. Her first published novel "How Lucky You Are" (2012) described the lives of three longtime friends and how they try to keep their friendship survive despite their differences and a secret that threatens them. Set in Boston, "Save Me" (2014) depicted a marriage of two doctors and how they deal with infidelity. "Half of What You Hear" is about a former White House employee who moved to Greyhill, Va. where she uncovers secrets from this small close-knit community.
Before writing her novels, she was editor of New Woman, Child and Glamour magazines. She has also been writing for 20 years and has been published in national publications such as the New York Times, O: The Oprah Magazine, and Real Simple.
She answered questions about her writing experiences, revealed her favorite Arlington haunts and disclosed her plans for a new novel set in Arlington.


Details
Author Talk
Thursday, Jan. 10 • 7-8 p.m.
One More Page
2200 N. Westmoreland St.
Arlington, VA 22213


You have been writing national magazines and newspapers for a long time before you wrote your books. What prompted you to start writing novels?
I started out as a magazine editor. My first job was actually a summer internship at Government Executive magazine, here in D.C., and then after college, I began working at Glamour magazine. (I am 100 percent sure that I am the only person who transitioned from Government Exec to Glamour) I went on to write for dozens of magazines and newspapers, a career that I loved, but I had always wanted to write fiction, and when I found out that I was pregnant with my first child, I decided it was "now or never."
Was "How Lucky You Are" your first book? Did it take a long time to get published?
I wrote another novel before "How Lucky" that I promptly shoved in a drawer once it was finished. "How Lucky" took about two years from start to finish, and I went the traditional route: I wrote the entire novel first, sent it out to literary agents, and once I signed with my agent, she sent it out to publishers. I am still with the same agent and editor whom I started with years ago, and I feel incredibly fortunate about that given that this can be a fickle, unpredictable industry.
What was the inspiration for your newest book, "Half of What You Hear?"
My first two books, and particularly my second one, relied heavily on the characters' private struggles, and while that's true for this book, too, to an extent, I was really drawn to the idea of writing about a town, with lots of characters who have a lot to say about each other and tend to get each other into trouble. This story has a slight suspense element, too, which was a lot of fun to write, especially when it came to the characters whom are not so well-behaved.
What is your writing process like? How long does it take you to write your books?
I write a rough draft as quickly as possible, because that's my least favorite part. This usually takes a couple of months. Then I attempt a detailed outline, where I work chapter-by-chapter on plot and character, and then I write my next draft, which invariably veers away from the outline at some point but at least I have a roadmap. I typically write four or five drafts over the course of a year or two, depending.
What is the best part of being an author?
Being involved in the world of books, of course, and having an excuse to read a lot because it's "work." And putting my active imagination to good use.
What do you want your readers to take away from your books?
I hope that they feel some sort of connection to my characters, because I work hard at making them fully-fledged, realistic, perfectly imperfect people. And I hope that my books — and this latest book especially — entertain and provide a welcome escape for readers to enjoy.
Does Arlington show up in any of your stories?
My first book is based on a fictional Northern Virginia city so there are certainly landmarks that will be familiar to Arlington readers. But my next novel, which I am currently working on, is set in Arlington. I'm having a lot of fun adding local details to the story.
What is your favorite place in Arlington?
I have many! It's wonderful that Arlington feels like a small town in so many ways. I love the Westover neighborhood, where I can run an errand at Ayers, visit the library, and stop by the Italian Store for their excellent coffee. I'm an avid runner and have two dogs, so I also spend a lot of time on the many trails that run through the city. I of course love One More Page Books and local shops like Two the Moon. And there's so much good food. We're big fans of Pupatella's pizza, Lebanese Taverna, Bakeshop … the list goes on and on.
Who is your favorite writer and why?
I have many favorites! It's impossible to pick just one.
Do you have any new writing projects planned?
My new novel, set in Arlington, is about a psychology professor at Georgetown whose family is enduring some growing pains as her daughter heads off to college. And I'm working on my first children's book, which I'm reluctant to say much about at the moment but am determined to get finished this year.