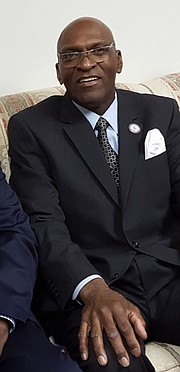 Myron Contee has ministered to inmates at the Alexandria jail for 24 years, first as a volunteer, the last nine as the official (though unsalaried) inmate chaplain. This conversation (edited below) covered how his ministry interacts with the criminal justice system. This is the third of an ongoing series of interviews with local religious leaders about religion in the public square.
Contee oversees about 110 volunteers from various religious congregations, of whom the regulars represent about seven denominations. He also serves as an assistant minister at St. John Baptist Church, where he worships; runs two small businesses (plumbing and home remodeling); and started a nonprofit called Second Chance Ministries.
Describe briefly how you came to this work.
Contee: I actually used to be an inmate here … at this same, very jail. While here, after giving my life to the Lord and converting, the desire to come back and minister here was felt [to be] a great need. …
What do you see are the biggest challenges to inmate rehabilitation?
Contee: If it's a person that has been repeatedly in this situation, their mindset is one of failure. They have a problem, they can't see success, and everybody's beginning to tell them this is what they're going to be. So getting their mindset to change … to change to something that they can't see. … [And] having the right discernment to give information that is needed, that's good for them, but sometimes hard to swallow. …
Does your ministry also seek to make changes at the systemic level? … Advocacy to improve jail policies or advocacy at the level of legislation, whether local or state?
Contee: I appreciate the sheriff that we have here, and the staff that I'm allowed to work with. I'm given the opportunity to bring in changes to programs offered. For instance, I'm bringing in a group … to come in and sit down with inmates and just talk about life trials and struggles. … I do anger management classes [for] the inmates … It's simpler to work inside the policy. … Once they [the administration] see the changes taking place, they have the authority to change the policy. … There have a couple other chaplains that came in here and didn't last long because they wanted to change the policy. … There's some flexibility that will never happen in here. …
With the prophetic call to speak truth to power, when you're a chaplain in any public entity … sometimes there can be a conflict of interest …
Contee: I'm governed by the laws of God to obey the laws of man. There are some things that, if it [were] in my power, I would change. … [But] if it's not that great of a difference, it's not worth … trying to take that hill. … Before I deal with trying to work outside it, let me see what I can do inside this [set of parameters]. Because if you see I can do good with what's inside the box, … you may make the box bigger for me. It's better if you make the box bigger than I fight to make it bigger. … I may not [be able to] change policy, but if the program becomes part of the policy, then I am changing policy. …
You said there are some things that if you could change them, you would. … Can you give an example or two of what those things would be?
Contee: … Policy used to be that, to be [an intermittent] volunteer, … you didn't have to go through the training to at least come into the facility … you only had to go through the training to be on the "master list" [of regular volunteers]. … Well, now you only can come in here one time [per year] like that. The next time you come, you have to go through the [Saturday] training and get cleared and put on the master [list]. … [That hampers my ability] to bring people in and out for different spiritual reasons, to minister. …
Do you network with any ministries that are either upstream or downstream, so to speak, from the jail in order to establish … a continuity of spiritual care?

Contee: Yes, a lot of churches … A little bit with probation/parole. I do know people at social services. I know a couple of individuals at the shelters in the area. … I set up a mentors ministry. It's not at full effect now, I have mentors in place that were supposed be coming in, mentoring inmates … three months before their release, and then mentoring out in the street six months [after their release]. …
Do you have ministerial points of contact … so that when people … get transferred to a prison … you can call up Joe Chaplain there? Or does each step of the way have to have a chaplain who gets to know [the inmate]?
Contee: No. Each step of the way they probably have to get a [new] chaplain to know. … If we have federal inmates, they might be going anywhere in the United States … The state inmates, we know where they'd be going. … I do interact sometimes with some of the [other] local jails …
How about more upstream stuff? Do you engage in any kind of preventative or intervention-type ministries or programs, say, with the public school system, or Boys and Girls Club, or whatever?
Contee: Not as much as I would like to. I'm available to a lot of those ministries, if they have needs for my services. …
Do you minister in any way to inmate families?
Contee: Yes. … It all depends on the situation, if it creates an opportunity … If something happens for some reason and I have to contact the family member, or the family member contacts me, and dialogue is given, however that dialogue happens determines how we proceed …
I would think that … a young adult is in here, got into whatever trouble he got into, that that's not a stand-alone, bubble thing. That might be related to family disorder …?
Contee: … [In one] situation, a son had gotten locked up. His mother wanted the church that she was going to come see him. … He didn't want them to come. But come to find out in my conversation, the issue wasn't the church coming; the issue was his mother. So we're working on how to get his mother to come see him so that they can resolve their personal issues … Because the conflict is mother-and-son. … So things like that …
Sometimes your ministry does bleed over into [your relationship with] the deputies …?
Contee: … Most of my personal [interactions] with staff are unrelated to this, to inmates. … The only time staff have come to me about inmate issues is if they want me to talk to certain inmates, because they were worried there were certain things going on. …
Tell me a little bit about how you minister to inmates with faith traditions other than your own.
Contee: … If you request from me a visit from a specific denomination, then I try to set that up for you, where they can come in and do whatever you require one-on-one. My responsibility is to attempt [as] best as I can to fulfill whatever your religious preferences or priorities are. If you come to me seeking counsel, I can only counsel you from the perspective that I am. … I do not try to counsel you from what you believe, because I can't, because I might not understand what you believe. … I'm not trying to be you. I'm just trying to be real with you. …
Have you ever run into a more obscure case, where you really had to hunt down somebody to help?
Contee: My job is to try to find them; if I can't, then I can't. But then some things I won't find. … [For example, Wicca] … because it's a religion of sorcery. I don't want to bring any sorcery that deals with security here. So I'm not trying to bring anything into the facility that may [cause] afflictions on the deputies or any of the staff members … If you notice, I didn't deal with it being your religion; I deal with the results of what religion may do … Things can be conjured up from the spiritual world and cause damage …
If you said to me, this religion involves animal sacrifice and they have to bring in a knife to do it, that's a nonreligious security risk. But you're talking about a security risk of a spiritual nature that not everybody's going to recognize as a risk.
Contee: Not everybody would. But part of my responsibility, as a religious leader in the facility, is to guard the spiritual aspect of the facility. Regardless of what someone else might see, I need to see the spiritual repercussions …
I say as part of the Nicene Creed at Mass every week: "I believe in one God, the Father Almighty, Maker of … all things visible and invisible" [including spiritual beings like angels, some of them fallen (the devil, demons)]. … So I get it — from a Christian perspective. But [some would] say that's a problem of religious freedom, when you have a Baptist [person] deciding what is spiritually dangerous and what is not.
Contee: … Why would I want to allow something to come in that's going to create even more confusion, with different spirits operating [in here]? … That [would mean] I'm now creating a harmful situation to somebody. No. They've got enough they've got to be on guard with than to allow that stuff in. So I don't have to denounce the religion. … Wiccan people would be against it. But there's certain parts of different denominations that can't happen in here anyway. … They can't light candles [during Catholic Masses, because fire's not allowed] … I could find something in every denomination … that we can't do here. … Outside this facility, you have some religious freedom and some choices that you don't have inside here. … This is a facility that's supposed to be secured. … I'm going to err to the side of caution.
My understanding of the First Amendment is not that you can exercise your religion to the infinite extent, anywhere, anytime you want. There are restrictions on the practice of religion even in normal day-to-day life. … Maybe [due to] professional responsibilities … Everybody's going to have their different personal opinions about where the line gets drawn. …
Contee: And any answer could be right or wrong.
I imagine that you deal with some pretty heavy stuff … Do you have any kinds of practices of your own kind of spiritual self-care? …
Contee: I try not to carry it with me. … You see incidents where an inmate might not have gotten treated fair, in a certain situation. But you can't change that. … Or, they might have gotten a bad deal in court. … For some reason, God has given me the ability to separate.
What is the biggest misconception out in the public about inmates?
Contee: That everybody in here is a criminal. … The only difference between someone in here and somebody out there is that they made a mistake and got caught. …
People in here are not intrinsically criminal people …
Contee: … They're just people, just like you and [me].