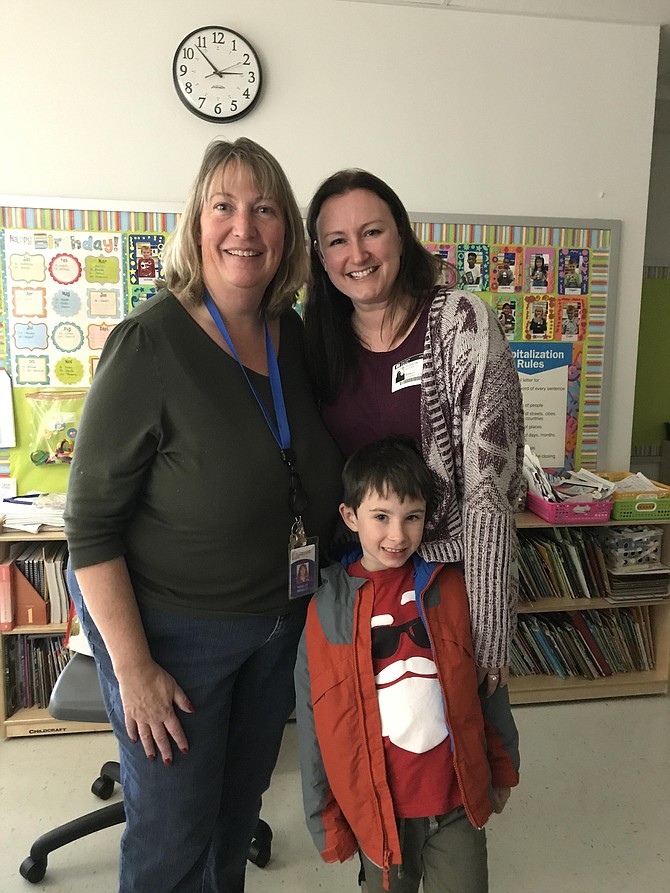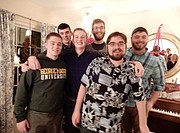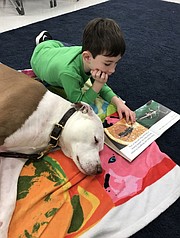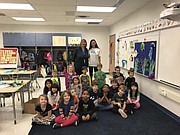 Last Friday was sort of bittersweet for Noelle Brinley, 55, of Mantua in Fairfax. The Terra Centre first-grade teacher officially retired after 33 years at the same Burke school. On Thursday, about 60 parents, teachers, and administrators threw her a breakfast buffet party to say goodbye.
"I cried most of the day. I feel very sad to leave the community that I've been part of for so many years, but excited to be able to help care for my grand baby," said Brinley.
During the party, the children sang a song and did a PowerPoint of current and former students wishing her well, she said. "The children wrote the song with their music teacher, Tiffany Hagen, and the children performed it. They wrote an original song about me," she said. They even gave her gifts for her six-month-old granddaughter named Brynn Noelle. She also has two grown children, a daughter age 30, and a son, 27.
FORMER STUDENTS AND PARENTS contributed photos for a slideshow and made a Facebook group so all the messages and photos could be in one place. Someone shared a photo of six boys who were all in her class 15 years ago and are now in college.
During her time at Terra Centre, Brinley's outlasted five different administrators and worked through the school's interior renovation that lasted two years. "We had open classrooms when I started there and now they have doors. The configuration is completely different," she said.
Brinley has taught kindergarten, first grade and K-1 multi-age, which is where teachers keep their students for two years in a row. For 13 years, she taught about 650 students in AM and PM Kindergarten classes. All in all, she's taught more than 1,000 students through the years. What she likes most, she says is "The love the children have, the progress they make in kindergarten and first grade."
She's taught some members of the same family — like the Turets and the Lawrences — who had two or three of their children go through her K-1 class. "I've met some of them as babies while I was teaching their older siblings, and was lucky enough to teach them as well," she said. "I think once a teacher forms a bond with the family, it's beneficial for that teacher to get to teach the future children in that family."
Brinley describes her style of teaching as loving, consistent and fair. "It's important that they know they're loved. That really is it. I don't know that I'm stricter than someone else, but I'm fair and consistent. I get to know their families, what's going on in their lives, if their dad's away for travel or if their cat died or things that might affect them in school," she said.
Brinley attended Woodson High School in Fairfax, has a degree in early childhood education from JMU, and a master's degree in curriculum and instruction from GMU. She still lives in the house where she grew up.
Looking back, some milestones were teaching the children of children that she had many years ago. "I probably had five or six cases where I taught children of children. That's a different kind of experience — that I've been there long enough to experience that," she said.
ONE EXAMPLE is parent Jackie Cotter and her son Everett. Brinley taught Jackie in Kindergarten in 1987. This year, Everett was in her first-grade class. "I had not been in touch with [Jackie] all these years, and this summer she emailed me and said her son is coming to first grade," Brinley said. "I remember her; she was a little bit on the quieter side then. Now she's a parent leader in our class; she steps up and makes sure things happen now."
Added Cotter, "Fast forward 30 years, my family had just moved back to Burke from Malaysia and I had my son's transition to a new school worrying me. I had no idea Mrs. Brinley was still teaching, and when my son was assigned to her first-grade class, I was instantly relieved, knowing he was in good hands and also couldn't believe how special our situation was."
"Mrs. Brinley is a wonderful teacher and role model for the little minds she taught over the last 33 years," she said. "She's made a lasting impression on the community and we are grateful for her hard work, support and kindness. She has been at the forefront of hundreds of kids' start of their education journey."
She added, "I love that my son is going to the same school I went to, but the added bonus of having the same amazing teacher I had 30 years ago makes it that much more meaningful for both of us," she said.
Brinley has a certified therapy dog named Fenton who comes to school a couple of times a month and listens to the children read. "That motivates the children. They get motivated to practice reading and they'll choose a book and practice it so they're ready to read when he comes. It instills reading motivation and reading confidence," she said.
When she retires, Brinley plans to go on a cruise to Mexico with some teacher friends. "Then I will be taking care of my granddaughter two days a week. And continuing therapy dog work with my dog. That's why I'm retiring, to take care of my grandbaby," she said.