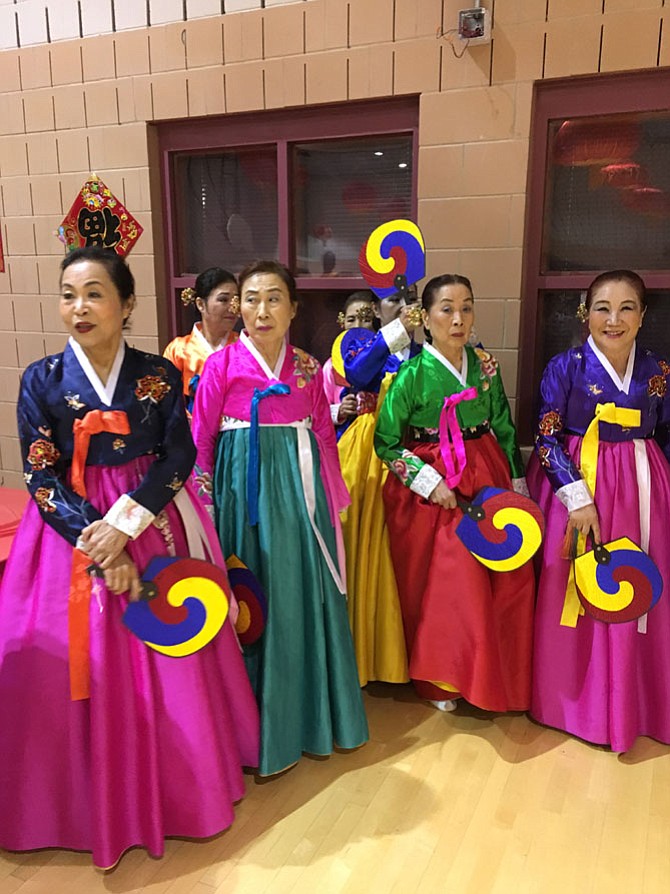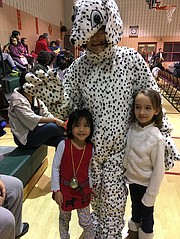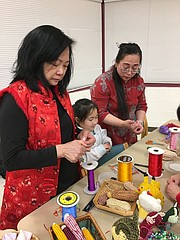 It was a colorful evening of food, music, family, friends and tradition as many local area residents celebrated the Lunar New Year at Potomac Community Recreation Center Sunday, Feb. 4.
The event celebrated the Year of The Dog, which begins on Friday, Feb. 16.
"People born in the Year of the Dog are friendly and loyal," Connie Shen said.
Shen was dressed as a big dog, much to the delight of the many children who wanted to give her a pet and have their pictures taken with her.
The party began with a buffet dinner of Asian foods in the gymnasium of the recreation center. In the large meeting room, booths were set up with Asian artisans demonstrating their crafts including calligraphy, Chinese knotting and handmade musical instruments.

Holly Xiao, of Northern Virginia, said she made each of the instruments including the gourd flute called Hulusi which she later played during the after-dinner performances.
"I grew this gourd myself, in my back yard," she said.
As dinner ended, members of the Hung Tao Choy Mei Kung Fu Academy took to the stage playing a Chinese thunder drum and other percussion instruments as a prelude to the highlight of the evening, the Lion Dance.
"The Lion Dance is supposed to draw all the evil things away, so we will have a better year," said Peter Shum, of Silver Spring.
"[It] is the most popular because it is much easier to manage. You can do it with two to four people," he said. "For the dragon dance you need a lot of space, it is 60-70 feet long and you need 20-30 people."
At the end of the Lion Dance, children were invited to feed the lions what look like bok choy.
"If you feed the lions, it brings good luck," Shum said.
After the Lion Dance, there were performances by members of many of the area's cultural societies including Chinese, Korean, Mongolian and Vietnamese.
"We called the celebration Lunar New Year, not Chinese New Year this year because we wanted to be more inclusive," said Kristen Fang, the evening's master of ceremonies.
The celebration was sponsored by Montgomery County Recreation and the Coordination Council of Chinese American Associations, Washington, D.C. It was the second year it was held at the Potomac center.
Last year, several people said, the event was so crowded it was hard to move around.
"We couldn't come inside [the gym] because it was so crowded," said Nina Chien, of Potomac. "We had to watch through the windows."
This year attendees had to make reservations through the Recreation Department's web site and there was food and seating for all.
"It's really an important holiday for Chinese people," Chien said. "And the kids love it."