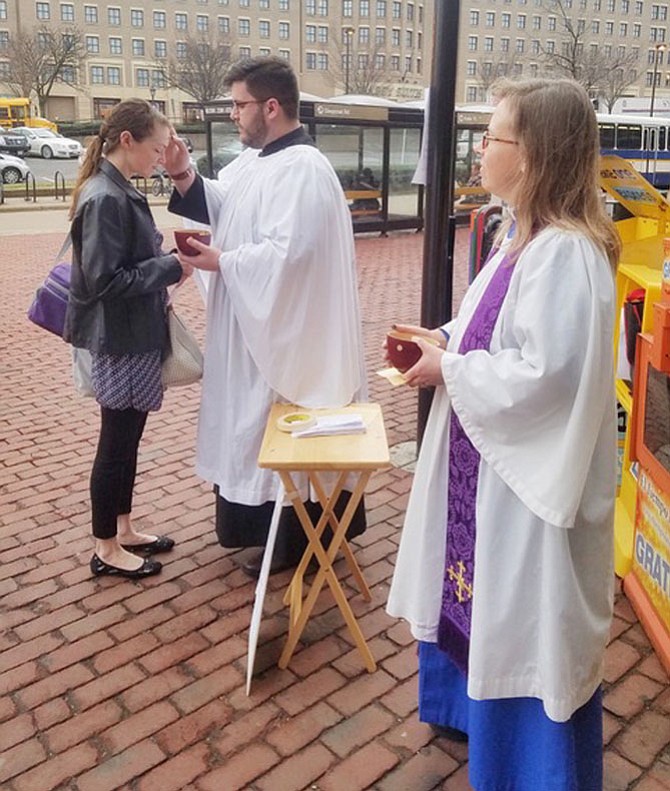 Several local churches will offer early morning Ashes to Go for busy morning commuters on Wednesday, Feb. 14, the first day of Lent. Historical Christ Church will be at King Street Metro from 6:30-9:30 a.m. The Rev. Heather VanDeventer wearing traditional cassock and surplice will be available at the Metro to offer each person a prayer followed by the making of a cross with ashes on the forehead.
She says this is the sixth year that Christ Church has participated, and, "I love to see the steady stream of people coming into and out of the Metro stop; they seem to appreciate our presence and some remember us from year to year." Van Deventer said, "Ash Wednesday is a day of repentance for Christians. Christians from any denomination or tradition are welcome to receive ashes."
Good Shepherd Lutheran Church will offer Ashes to Go from 6:30-8:30 a.m. at the Braddock Street Metro, and Church of the Resurrection will offer the traditional blessing at the bus stops in front of The Graham or Southern Towers on Seminary Road from 6:30-7:30 a.m.
Ashes to Go began several years ago in St. Louis as an ecumenical effort. Since then many Episcopal churches across the country have joined in to offer Ashes to Go, particularly at key commuter lines.
"Ashes to Go is a chance to show that God is at work in the world, that forgiveness is always available and that God's love is ever present," Van Deventer said.
Traditionally Ash Wednesday marks the 40 days of Lent leading up to Easter. To commemorate the day, clergy all over the world burn palms from the previous year's Palm Sunday services to create ash.