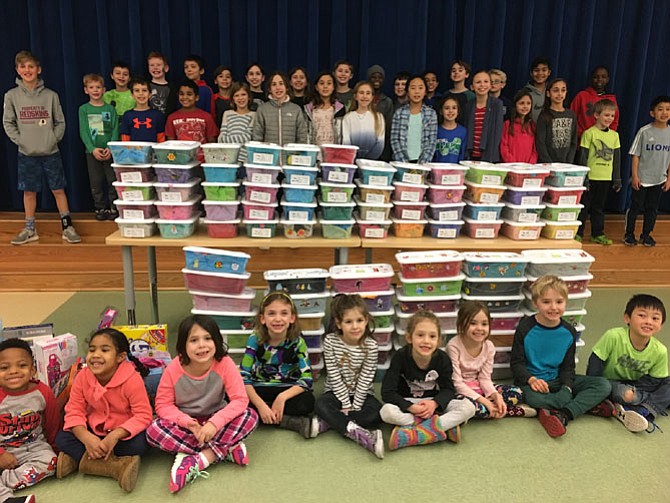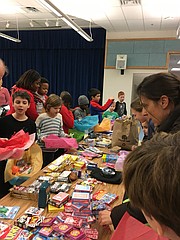 Students, parents and a few school staff members gathered in the all-purpose room of Wayside Elementary School Feb. 6 to fill boxes with small toys for children in local hospitals.
It was Community Service Night, sponsored by the School's Parent Teacher Association and organized by parents Linda Young and Rima Adler.
Adler said the school filled boxes for The Jared Box Project the last year and she was especially happy to organize this years' Service Night after learning that a child from a Wayside family received a box while in the hospital.
"I thought it was nice," Adler said. "Last year we took the [filled] boxes to Children's National Medical Center. This year they will go there or to the Children's Inn at NIH."
Small games, stuffed animals, playing cards, crayons, markers, books and small cans of Play Doh covered two long tables as the organizing committee brought in 100 plastic shoe boxes.
Soon, everyone was busy working: First lining the boxes with colorful tissue paper, then walking along the tables, selecting age appropriate toys, stuffing as much into each box as it would hold and still close.
Next there was a station for writing notes to add to the boxes and stickers to decorate the outside.
"The goal of the Jared Box Project is to lift the spirits of children in the hospital," according to the project's website.
The Jared Box Project was started in 2001 by students from Our Lady of Victory School in State College, Pa., to honor fellow student, Jared, who was diagnosed with brain cancer at age 5. Jared died in November 2000, according to the website.
"Play is important, and a life-threatening illness shouldn't interfere with the need to play," Jared's mother Ruth is quoted on the web site.
Teddy, a sixth grader at Herbert Hoover Middle School, participated in the Service Night. He said he has been in the hospital before and was happy to be helping fill boxes to hospitalized children.
"They will feel amazed and happy when they are in the hospital recovering," he said.
Justin, a fourth grader, said this year was his second filling boxes for The Jared Project.
"I think it's pretty cool that we get to give new toys to kids in the hospital," he said.
He also said he participates in other service projects.
"It just makes me feel good that I can give back to other kids who are going through a rough time," he said.
The evening wrapped up with a "team" photo, the student volunteers posing with the 100 colorful Jared Boxes.
"I think it awesome, it's amazing that we can do things and give to the community," Young said.