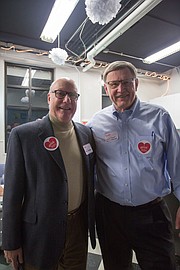 Saturday was the I Love McLean celebration hosted by the Mclean Citizens Association (MCA). It was an informal way for members of the community to mingle and meet with the leaders of their local government, town services, and state delegates on the weekend before Valentine's Day.
"If they do nothing more than sharing contacts or making a new friend, then the day will be a success," said Dale Stein, 28-year resident of McLean, and president of the MCA.
Saturday's scene at the Old Firehouse in McLean was a mixture of everybody. In a room meant for teen mixers, with a black and white tiled floor, adults mingled with community leaders and local politicians in an informal meeting setting.
The McLean Citizens Association is a 104-year-old non-profit organization in McLean that serves to represent citizens in the local government and aims to increase the quality of life for all citizens in McLean.
The Langley School's middle school orchestra performed for guests gathered together on Saturday.
Dana Litke, choir instructor at the Langley School, was thrilled to have the opportunity for her students to perform at the event.
"We're happy to be invited and to showcase our students and music department. One of the former parents is a member of the McLean Citizens Association," said Litke.
Kendall Deagle, a seventh grader at the Langley School from McLean played violin in the orchestra.
"I think it's really cool that we all get to play because we get to learn new songs like Ode to Joy, Katy Perry's Fireworks, and Beauty and the Beast," said Deagle.
Andrea Del Vechio, a 30-year resident of McLean and member of the MCA's executive committee, was excited to be working at the event.
"It's a wonderful celebration. I think that it's becoming a bit hyper-partisan nowadays, and we all love our little town, so let's just relate as people who enjoy living here," said Del Vechio.
Wahid Sajjad, a board member for MCA from McLean, was sitting and talking to John Price, of Vienna, the Battalion Chief for the local fire department.
"It's a great way for the community to come together. We need to do this more," said Patrick Smaldore, from McLean, the MCA's public safety liaison.