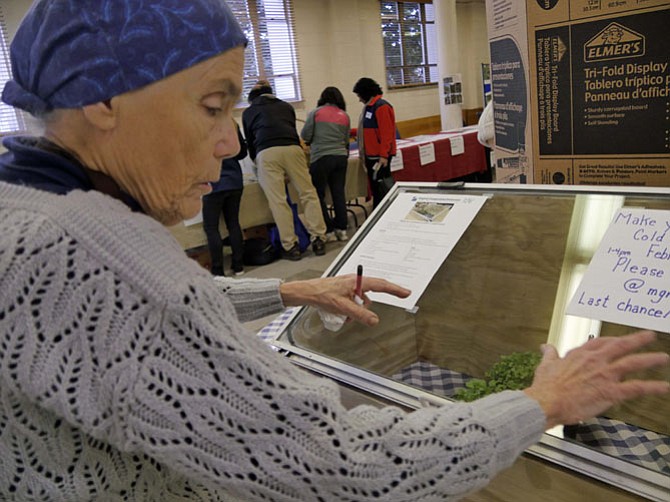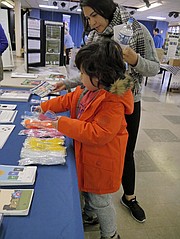 The Arlington Food Assistance Center (AFAC) Plot Against Hunger held its 2018 Spring Garden Kick-Off on Feb. 10 at St. Andrew's Episcopal Church with a morning of presentations and a social hall full of information tables and literature. Just inside the door, Marymount University students were painting purple turnips, bright yellow carrots and lush strawberries on rain barrels for the Arlington Central Library and AFAC's Walter Reed Garden.
Georgia Rangel, a Master Gardener intern with Virginia Cooperative Extension Service, explained the advantages of having a cold frame for growing vegetables. "I can eat fresh vegetables all year round. People who are low income like I am especially appreciate it." Pamphlets nearby show how to build one's own cold frame from wood or cement block.
Tom Hayes from Edible Landscapes demonstrated mushroom logs. A table piled high with seed packets encouraged visitors to grow a few extra vegetables for AFAC families. Volunteers handed out plastic reusable spoons and knives as part of their focus on recycling yard waste and trash and on eliminating waste. Five-year old Andre Manapsal took a blue spoon and then wondered, "Where is my plate" as he spots the breakfast rolls and fruit on the nearby table.
Downstairs the speakers moved from "0-50 Starting the Garden from Scratch" to "Irrigation and Best Watering Practices." The morning concluded with an outdoor session in the orchard on apple tree grafting and pruning. AFAC's Plot Against Hunger provides 2,200 families with supplemental food each week including fresh produce donated by local gardeners, schools, faith-based organizations and farmer's markets who grow or gather harvests for the food pantry.