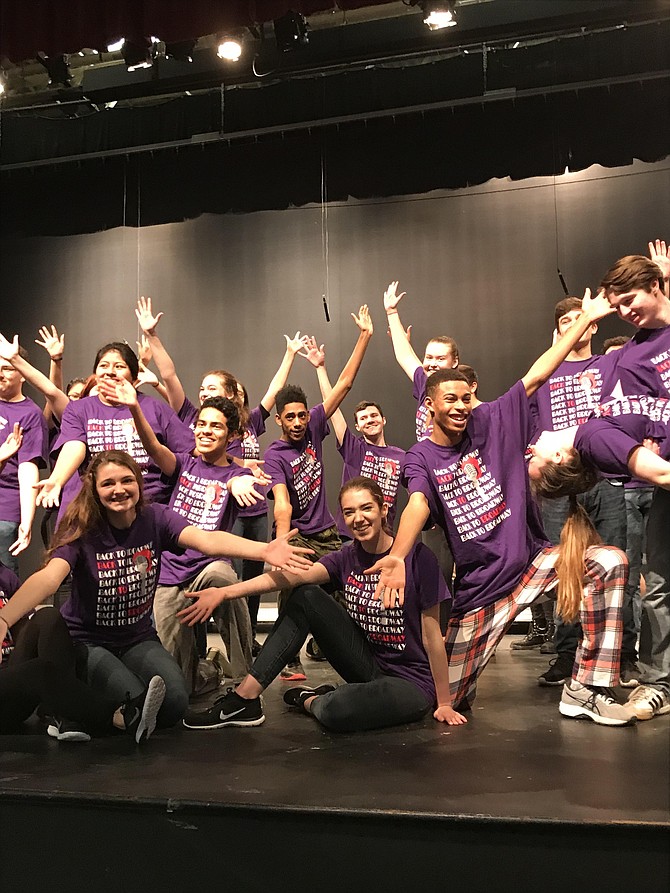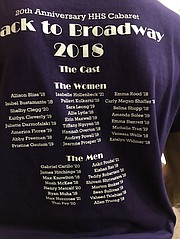 From the Herndon High School Choir comes one of their most exhilarating annual events, Broadway Cabaret. Celebrating its 20th Anniversary season, "Back To Broadway 2018" features energetic songs from musical classics such as, "The Pajama Game", as well as exuberant songs from adrenalin-rushed contemporaries "Hamilton" and "Dear Evan Hansen," a musical which was acclaimed by ABC's "Nightline" as, "... an emotionally charged phenomenon that has taken Broadway by storm."
This year's "Broadway Cabaret 2018" will take place in the Herndon High School Auditorium, Door # 6, 700 Bennett Road, Herndon on Friday, Feb. 23 and Saturday, Feb. 24 at 7:30 p.m.
Tickets can be purchased at the door: adults $10; students and seniors $5. Cash and checks accepted. According to Sara Metcalf HHS Choral Boosters, VP of Fundraising, proceeds from Cabaret will go to the booster's general choir fund.
Herndon High School choir and drama departments join forces at the high energy "Back to Broadway 2018." The cast delivers music and theatre into everything one would hope it to be and more. The event is under the direction of Dana Van Slyke, choral director at Herndon since 1995 and Jim Van Slyke, co-director, and pianist.
Dana Van Slyke said, "This is one of my favorite performances of the year because we get to feature so many students and their individual talents." Auditions for participation in the extracurricular event were open to all students. Jim Van Slyke added, "We started [the Cabaret] to provide an opportunity to many, with some of the music we love the most."
A week before their first performance, students took a break during rehearsal and told what is it like to be cast member. Many students described their participation in "Back to Broadway 2018" as something they will remember forever; for others, the experience develops technical skills; and for some, Cabaret offers to heal.
Gabriel Carrillo, 16, Herndon, said, "This once in a lifetime opportunity enriches you with many different styles of songs, music, and dances from a whole range of different Broadway performances."
Teddy Robertson, 17, Herndon, said, "To be a Cabaret is to be free to a singer, a dancer, and extension of me. Every one of my parts is my own. I love you, Cabaret 2018."
Juliette Darmofalski, 16, Herndon, said, "This is my second time participating in Cabaret. I absolutely love working with the cast."
Selina Shupp, 17, Herndon, said, "Music is food for soul, said my geometry teacher. Only through these productions have I really understood what that means...This production helps us grow as musicians and people."
James Hitchings, 17, Herndon, said, "The reason I'm doing Cabaret is for two particular reasons, to get more associated with more people and to practice my musical skills."
Isabella Hollenbeck, 15, Herndon, said, "Theatre, music, the arts bring healing. If there's anything we need right now, it's healing. One of my close friends was in Parkland High School during the shooting, and I sent her one of the songs we're singing, 'You Will be Found,' (a song to be performed at Cabaret from the Broadway musical 'Dear Evan Hansen'). I think we both needed to hear it."
For more information about "Back to Broadway 2018" and Herndon Choir or to donate to the nonprofit organization that serves as the Herndon High School Choral Boosters, visit Herndonchoir.org.