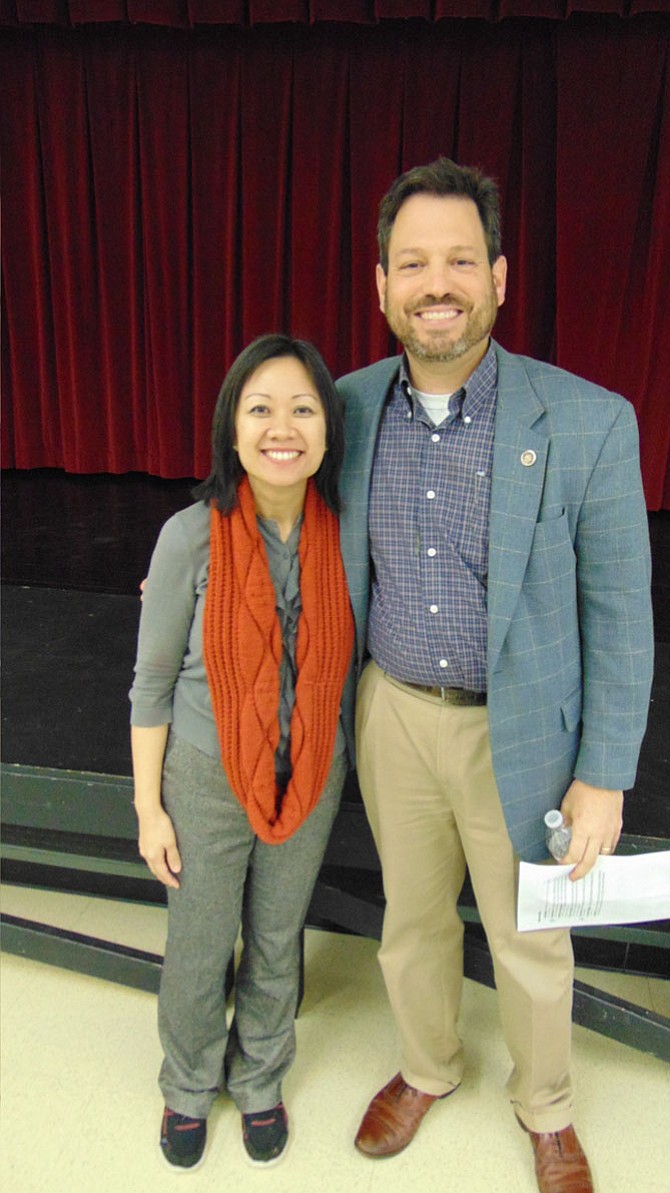 More than a dozen people attended a Legislative Town Hall Meeting at South County Middle School in Lorton last Saturday, Feb. 17, 2018, which featured comments by state Sen. Scott Surovell (D-36) and freshman Del. Kathy Tran (D-42).
The two legislators updated the audience on the status of their bills in the 60-day session of the General Assembly in Richmond, which ends on March 11, and took questions. Topics included guns, absentee voting, the status of Dominion Energy bill and building an additional nuclear plant reactor, electronic books and technology in schools, K-6 recess, a Blue Line bill for Metro, and voter registration files being secure from the Russia hacking.
"Where we are right now in the legislative process is we just finished crossover, which means that the House has completely reviewed all of the bills that originated in the House, and the Senate has reviewed and voted on all of the bills that originated in the Senate," said Tran.
Surovell, who introduced 61 bills, of which 21 cleared the Senate, discussed the status of SB 607, which reduces the penalty for consensual "sexting" between minors to a misdemeanor. "Right now, they say about 30-40 percent of children under 18 are trading naked pictures of themselves with each other. Right now, that's distribution, manufacturing and possession of child pornography, which is a felony… So, if we start as a misdemeanor it takes the pressure off to call police and involve law enforcement and allows people to deal with it more informally for a childhood mistake kind of things."
He also discussed the Blue Line Study to determine the feasibility of getting the Blue Line extended from Franconia/Springfield down to Woodbridge, Potomac Mills, and potentially Quantico. "We did the same thing for the Yellow Line back in 2011, and now if you've been reading about the Embark Process in Fairfax County, we're now six-to-seven years in, and Fairfax County is about to adopt an entirely new Comprehensive Plan for the Route One Corridor to facilitate and get the Yellow Line extended. It took seven years to get just the Comprehensive Plan changed. So, if we're going to get the Blue Line extended, get some transit down I-95, which is desperately needed, we need to start that process," he said.
Tran, who put forward 13 bills and three budget amendments, discussed a few bills, including some around protecting women's rights focusing on sexual harassment in the workplace. "What the 'Me-Too Movement' has shown us is that sexual harassment continues to be very pervasive, whether it's in our public, personal or work lives," she said. "One in four women are harassed at work, and that's a number that is under-reported. Mainly because most people aren't aware of what constitutes sexual harassment and they are not aware of what their employer's policies are. So, we had a bill that would have required state contractors to inform their employees and train them on their sexual harassment policies."
She also had a couple of bills to help veterans transition from the military to the civilian workforce by getting academic credit for their military experience through the four-year public higher-ed institutions. "Right now, Virginia requires two-year schools to review and consider military training and to award academic credit as appropriate. I want to make sure our veterans and active duty service members have the full range of educational opportunities for their discretion as they determine the best ways to reach their career potential," she said.