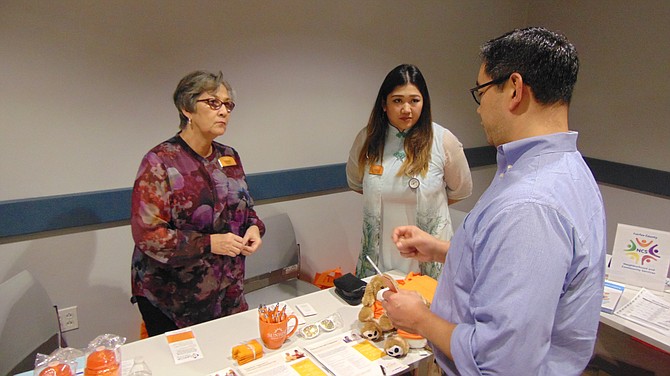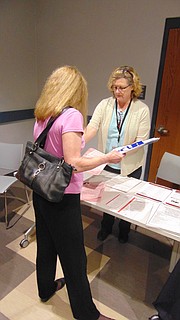 Dranesville District Supervisor John Foust's office hosted a McLean Senior Safety and Scam Day at the McLean Government Center on Wednesday, Feb 21, 2018, for senior residents and caregivers to help them identify scams and learn about all the resources that are available to them in Fairfax County.
Melissa Smarr, of Land Development Services, who highlighted the county's Silver Shield program and discussed scammer awareness, said that nationwide 11 percent of adults – or 25.6 million people – were victims of a scam during a one-year study period. Seniors who are 60 or older are the main targets of these scams, she said. And the financial exploitation is usually progressive – if it continues, its upwards of hundreds of thousands of dollars.
"I've sat with widows and widowers who have completely lost their life savings because of these con men and women who have taken all of their money, and said they were doing work when in fact they didn't," said Smarr.
Smarr said they're seeing unlicensed contractors coming from Culpepper, Fredericksburg, and Warrenton, and preying upon Fairfax County residents to basically steal their money.
FAIRFAX COUNTY POLICE DET. Jonathan Loesch said the scam has to start somehow. "Ninety-nine percent of the time it comes from a knock at the door. Don't answer the door. If you do answer the door, ask for the license. Girl Scouts are legal, but if they don't have a license, give the police department a call," he said.
Smarr highlighted some red flags to look for with contractors. Be wary of cash-only agreements, high-pressure tactics, limited-time offers, no physical business address, and statements like "I just happened to be in the neighborhood," she said.
She offered some tips for dealing with solicitors, which include: get references; verify the licensing; get referrals; review contracts and ask questions. Get three written estimates from three different companies, she said. "If it's too good to be true, it probably is," she said. Most legitimate contractors do not solicit door to door; they get business by word of mouth or advertising on the internet through Angie's List, she said.
Susan Jones, from the Fairfax County Office of Consumer Affairs, offered a few tips to stay safe. She warns residents to get an I.D. from contractors and ask them for a solicitor's license. Check your three credit reports – Equifax, Experian and Trans Union. She recommends checking them separately every four months. "So, you just have to be very careful," she said.
WYLENG LIEW, of Fairfax County Fire and Rescue, spoke about fire safety and said every 86 seconds in the U.S., someone is calling 911 because they have a fire in their house. She said most common fires are cooking-related, electrical-related, and caused from heating, smoking materials or fire places.
"Fires are often preventable in the home," she said. "I encourage everyone to take a survey of the home and identify fire hazards and eliminate them. Escape planning is a very important part of fire prevention…. We want people to do these important things like having working smoke alarms, making their home fire-escape plans, and sleeping with their bedroom doors closed," she said.
JUDY SEIFF of the Neighbor to Neighbor Initiative (N2N), a part of the Board of Supervisors' 50-Plus Community Action Plan, said there are a lot of reasons that we don't know our neighbors anymore.
"People are away from their homes many more hours a day because of commuting. Sometimes in this area we can barely keep up because neighbors change. People are still moving in and out. There are reasons kids don't play outside anymore, so people don't meet over the back fence," she said.
So N2N provides tools and resources for neighborhoods to get better connected. N2N will speak to your homeowners' association or with a small group of people in the neighborhood. Contact Jenny Phipps at jenny.phipps@fairfaxcounty.gov to schedule a speaker.