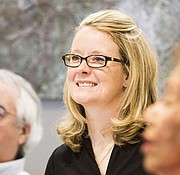 The Board of Directors of Reston Association and CEO Cate Fulkerson announced on the Reston Association website Tuesday morning, Feb, 27, 2018 that Fulkerson is moving to a special advisor role effective March 1, 2018, and will not be continuing with Reston Association past her current employment agreement which ends, Oct. 31, 2018.
In a statement, Fulkerson wrote, "Although I am sad to leave the association after serving these past 26 years, I am proud of what has been accomplished, especially during the last five years. I expect to continue to reside in Reston and support the association in all of its endeavors, and I am thankful to have had this opportunity to serve my community."
On the RA website, RA Board President Sherri Hebert wrote: "Cate has been an integral part of the growth and success of the Reston Association. She has served in numerous positions for over two decades, culminating in her leadership of the association as its CEO since December 2013. The board is indebted to Cate for her professionalism, and we wish her great success as she pursues other opportunities."
On Feb. 9, 2018, the Board of Directors for Reston Association held a special meeting. RA reported: "The purpose of this Special Meeting is for the Board of Directors to 1) consider a draft proposal for a Code of Ethics and related amendments to the organization's Conflict of Interest Policy; 2) convene in executive session to discuss the CEO's Performance Evaluation; and, 3) establish the CEO's performance goals."
Fulkerson has served as CEO of Reston Association and led the organization since the Board hired her after a nationwide search in 2013. At that time, the then President of the RA Board of Directors said in a statement, "[Fulkerson] brings with her the combination of institutional history and commitment as well as the innovative thinking and creative energy we need to ensure the future success of Reston. She epitomizes the mission of RA, which is to preserve and enhance the Reston community through outstanding leadership, service, and stewardship of our resources. We couldn't ask for a better representative to lead RA."