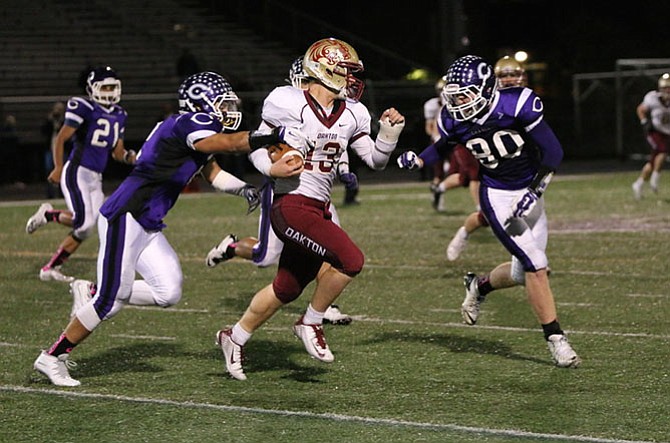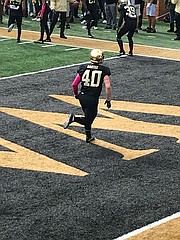 Every fall season, some of the most authentic, untainted American dreams are played out on a college football field. For these thousands of players, the wins and losses are about pride, their team, and long-standing – even lifelong – passion for sport. Herndon native and Oakton High graduate Justin Bartee is one of these NCAA Division I college football players currently on the unpredictable roller coaster that comes with playing football at this level.
Bartee, who plays Safety for Wake Forest University, is fresh off the team's coveted Belk Bowl victory last month over the Texas A&M Aggies. The Demon Deacon victory in Charlotte, N.C., was both an unusually high-scoring bowl game and a hard-earned win over the favored Aggies.
"Last year, I was actually at the Military Bowl [in which Wake Forest beat Temple University's team] as a spectator; I was just a student fan," Bartee recalled. "It was so exciting. This year, though, being on the other side was absolutely amazing. It was a dream; an out-of-body experience that I never expected to be in. Being on Wake's football team, and getting to the Belk Bowl with a team and coaching staff I respect so much, has been an incredible experience and definitely something I'll remember forever."
It wasn't until the winter of 2016 – a time when Bartee, a 2016 graduate and football team alum of Oakton High School, already had a semester of college under his belt – that he no longer ignore the swirling thoughts in his mind about playing college ball.
"I didn't really feel like I was involved in very much," Bartee said. "I talked to my dad about trying to play for the team that following January, after I'd given it some serious thought. Then, I started emailing coaches. Finally, I got a meeting with Wake Forest's head coach, Dave Clawson."
It may seem simple, but setting up that initial meeting was a quest in itself for Bartee.
"We all knew from the start that it was an audacious goal and one which came with much push back," Justin's dad, Ken Bartee, said. "He had to keep knocking on many doors, and multiple times. Ultimately, the coaches laid out a pretty tough gamut and they saw what I've seen in him since he was a kid. He pushes hard. Once he goes for something, he really goes. And, watching him with his teammates, it's very clear that he's already accepted as part of the team. They see his commitment. As his parents, we are really proud of him. He worked hard to then make it become a reality. He did this on his own."
JUSTIN'S JOURNEY to the Belk Bowl is particularly emblematic of the American dream for a multitude of reasons. As a "walk-on," Bartee had no scholarship luring him toward the blood, sweat, and tears that inevitably come with the grind. Still, he embraced – and successfully cleared – every hurdle it took to get him to where he is today.
As supportive as his parents are of Justin's undertaking, the idea of their youngest son playing a notoriously rough sport caused them more than passing hesitation.
Step one: convincing mom that trying out was a good idea.
"My initial reaction was, 'No way,'" Justin's mom, Sue Bartee, said. "After his last high school football game, I was so excited because I thought I didn't have to worry anymore. Then, it started all over again."
Before Justin made any commitments, Ken and Sue made absolutely sure that Justin understood the full picture of playing college football. As a family, they weighed the pros and cons, laying out all that factors that come with a sport known not just for glory, but also for injury.
"We also talked about Justin's wants for his future," Ken recalled. "He's always wanted to be in sports management as a career, and the reality is, to achieve that, it's invaluable to have played a college sport. I also know he's always loved being a part of a team. Justin also knew that he had to keep his grades up. He had to comprehend that not everything was going to go his way. When all was said and done, I was okay with him pursuing the game once he understood everything he was up against."
What followed was what Justin called a "whirlwind."
"I was invited to participate in spring practice last year," Justin said. "My time with the team from mid-February until the end of April was a tryout period. I did all the workouts and went to every practice. Then, I was invited to their fall camp from July through August of 2017, until about school started. I spent those couple of months every day doing workouts, and in meetings with the team and coaches, strategizing and planning – you name it – all day."
As the young athlete has learned over the last year, "walk-on" is a bit of a misnomer.
"Camp was technically my 'try out,'" Justin explained. "Some schools do more traditional tryouts, but, since Wake Forest is such a small school, it's a process that begins with that invitation. It was tough, but I loved it, and I got through it. I got a spot on the roster. I was the only one that season who had a spring try out, too."
Out of the roughly 110 members of the team, less than 20 percent are walk-ons. And, at Wake Forest, it takes more than athletic prowess to become one.
"Coach Clawson made sure I was a good student, that I worked hard, and that I never had any kind of drug issues," Justin said. "They like kids who are going to respect the program and keep it on track."
Justin spent the entire 2017 season playing his part in preparing the starting lineup for absolutely every game of what resulted in an overall winning season.
"As a Safety, I play more of an intellectual position for the defense," he said. "My coach likes having me around because I challenge people."
While Justin, whose jersey dons the number 40, has not yet played during any of the big games, it's impossible to overlook his role. You can count on his persistent professionalism, taking his position and his time on the field.
"I still practiced every day as part of the scout team," Justin explained. "My job is to emulate the other team's defense. For example, leading up to the Belk Bowl, we knew we had to prepare to go up against an All-American Safety. I spent a whole week wearing his number and a different-colored jersey to represent him for the rest of my team who would be facing him on the field come game time."
After a successful ride with team, the future looks bright for the fresh-faced college Safety. Having wrapped up his season as a redshirt freshman, Justin still has three more years of eligibility. Of course, Justin envisions that his future seasons with the Demon Deacons will involve salient moves in season-defining games. Still, he will always relish his first season on the team for exactly what it has been.
"Sometimes, Coach Clawson will ask the entire team how many people want to go into the NFL after their time playing with Wake," Justin said. "While most do, I don't. I know I won't play pro ball, and that's okay with me. I love to play football. If I have the opportunity to do so right now, I'm going to."
SPORTS HAVE ALWAYS BEEN a big part of Justin's life. That comes with the territory of being one of two athletic boys, and your built-in athletic rival being five years older. Justin always showed signs of being a natural competitor even when he wasn't roughhousing big brother Zack.
First and foremost a student at a prestigious university, Justin seeks those challenges in the classroom, too. He understands the value of his education, and how it will help him continue to go after lofty goals for the rest of his life.
"I love sports, but I also never identified myself or found my self-worth exclusively within an athletic realm," Justin said. "Statistics always clicked with me, even in high school. It's actually my minor right now. I also always enjoyed my history classes. I really enjoyed a religion class I took recently. It was all about the history of Hinduism and its traditions."
Speaking of traditions, Justin has become a part of a major American institution. As interesting as he's found his college courses, he said he's also learned so much as a member of Wake Forest's bowl-winning football team.
"A&M is a power house school," he said. "It was cool to be able to play a team like that. Our coach told us from the beginning, 'This is a big game. This means a lot. This is an SEC team that thinks they are better than you.'"
And Justin, who prepped to play if he had been needed in a pinch, felt the stress of the game even from the sidelines.
"Games like that drag because you're so nervous that you keep looking at the clock every minute," Justin said, "especially once you have the lead."
Now that the Belk Bowl is over and Wake Forest is in the midst of its official winter break, Justin has given more thought to some of his non-football-related goals, too.
"The goal is to go to the business school," he said. "It would be cool to be working in sports somehow, but it's such a difficult field to get into. As I've learned over this last year, you really never know what can happen. We will see."