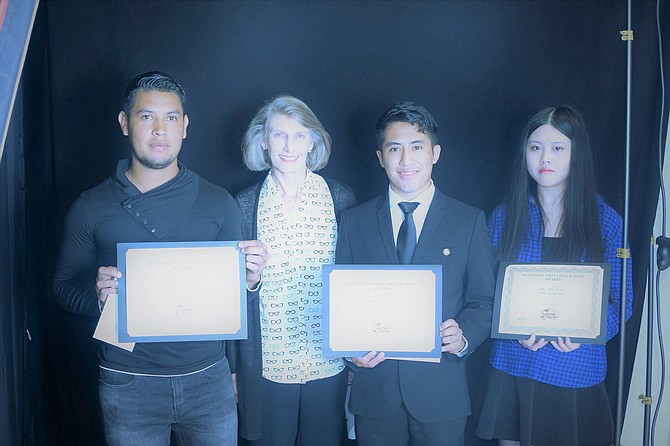 The Closet of the Greater Herndon Area, Inc. recently awarded $25,000 in college scholarships to 18 deserving high school graduates in ceremonies at five local high schools. Closet Board President Gene Wiley stated, "We are so proud of these youth and their families and are happy to continue supporting this important educational need in our community." The 2018 scholarship recipients are:
Herndon High School: Hezha Faris Barzani, Jennifer Dayana Choque-Cruz, Isaiah Leigh Johnson, Minnie Suki Nguyen, and Ava Catherine Procopia
Mountain View High School: Brayan Geronimo Perez Brito, Jose Cantarero Ramos and Duc My Tran
Oakton High School: Matthew Chen, Anais Tshialemba Malangu and Naomi Michel Nero
Park View High School: Rubby Alondra Bonilla, Carlitos Martin Watley-Villanueva, Srey End Hai, David Alejandro Zinter and Lisbeth Yamileth Ramirez Zelaya
South Lakes High School: Ammar Faroun and Nelson Andres Moreno
Since 1974, The Closet has awarded nearly $500,000 in college scholarships to more than 458 students. In this same 44 year period, The Closet has distributed nearly $3 million in direct cash grants to local service groups, of which the scholarship program is an important part.
The Closet is a non-profit thrift shop founded and operated by a multiplicity of faith-based congregations. With a small dedicated staff and a very active volunteer cadre, The Closet provides shoppers low-cost, high quality used clothing, shoes, books and other household items. Donations of clothing and small household items are always needed, graciously accepted, and may be dropped off at the store Monday through Saturday from 8 a.m. to 3 p.m. Retail store hours are 10 a.m. to 5 p.m. Monday through Saturday with evening hours on Monday and Thursday from 5 to 8 p.m.
The Closet welcomes new volunteers at any time Monday through Saturday between 8 a.m. and 4 p.m. Please see the store manager, Patricia Rhoads. The Closet also welcomes student volunteers fulfilling their community service requirements for school or who just want to serve their community. Go to http://www.theclosetofgreaterherndon.org for further information about The Closet. The Closet is located at 845 Station Street in Herndon.