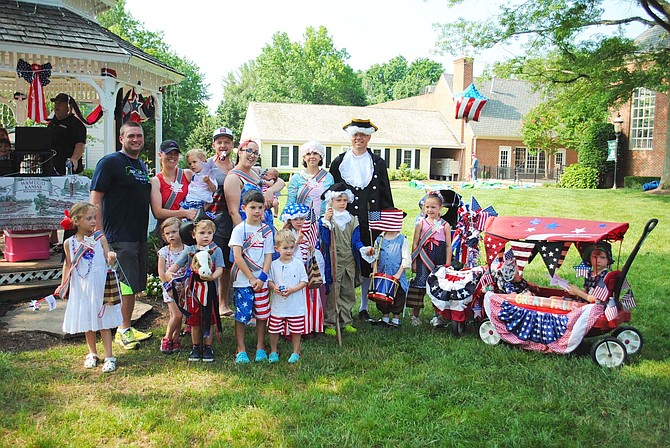 People gathered all around the white gazebo at the Great Falls Village Center as the annual tradition of the Fourth of July continued this year. The Fourth of July Hometown Celebration was organized by the Celebrate Great Falls Foundation.
The day began with the annual 5K Walk/Run hosted by the Great Falls Trailblazers. The free walk/run began at 8 a.m. at the Freedom Memorial at the library and took participants throughout the local trails. Senior at St. Albans School in Washington, D.C. and Great Falls resident Jonathan Merril, was the first to finish. The young man who is on the running team at his school, asked if it was alright to do another lap once he crossed the finish line.
"It's a fun and free run. We want everyone to enjoy themselves," said Trailblazer member, Julie Ben-Achor, as she cheered runners at the finish line.
After the race, people headed to the Village Center to watch the Little Patriot Parade, which was sponsored by the Great Falls Friends and Neighbors. The best dressed participants were awarded prizes. The categories were the Star Spangled Family, Most Patriotic, Little Liberty, Most Creative, Little Miss Betsy Ross, Young George Washington, Best Decorated, and Most Patriotic Baby.
Afterwards, the annual main parade took place, starting on Columbine Street. The best floats were judged by AOG Wealth Management CEO, Fred Baerenz, his wife, Sheila Baerenz and Great Falls resident, Emerson Miller. AOG Wealth Management was a platinum sponsor of the Fourth of July events this year. Trophies were awarded to the Great Falls Rapids Swim Club for Best Organization Float, The Adrenaline Studio for Best Business Float and The Burke Family and the Great Falls Garden Club for Best Neighbor Floats.
DJ Jon Paul of Megawatt played music from the white gazebo while families enjoyed moon bounces, carnival games and food for a few hours more.
During the festivities, the Great Falls Volunteer Fire Department held the INOVA Blood Drive at the fire station on Georgetown Pike. Donors received a free Donor T-shirt.
The annual fireworks also took place at Turner Farm. The gates opened at 6 p.m. for community members to enjoy more live music, games, contests and food.