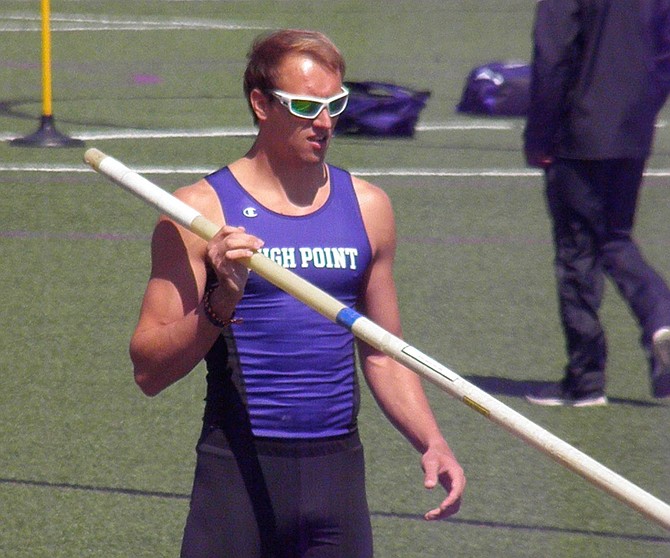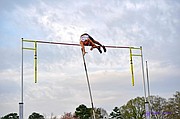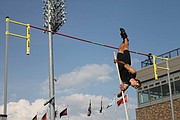 Top athletes from across the nation, including Town of Herndon native Austin Miller, competed at the 2018 USA Track & Field Outdoor Championships held at the Drake Stadium in Des Moines, Iowa. Athletes faced off for national titles and spots on the team for the first Athletics World Cup to be held in London next month. The four-day competition took place June 21–24 and served as the national championships in track and field for the United States. A reported forty thousand visitors attended the event as the best of the best USA athletes challenged each other for national titles. The top two qualified for the North American Championship.
MILLER, who is 24 years old and hails from the Town of Herndon, placed eighth in men's pole vaulting, clearing 18 feet 2.5 inches. In an interview, Miller told how he vaulted as a student at Herndon High School where his record of 13 feet 6 inches stands unchallenged.
Asked to share a bit about pole vaulting, Miller described it as an all-encompassing event. He stressed that pole vaulting requires so many things, an amplified running speed, strength and coordination during the swing up, and the skills of a gymnast especially when the vaulter is turned upside down and must spin his torso to go over the bar "You have to be fast, and strong in the arms and back. You have to be strong in the legs to jump, and strong in your core because you have to swing yourself upside down like a gymnast."
Miller recalled his all-time best record. "The highest I've ever jumped was a few weeks ago at pole vault meet in Tennessee, 18 feet 6 inches. This was the Olympic trial qualifying standard in 2016." Miller explained national standing is determined by the general height one clears. "This is a good experience getting my name out. It helps with exposure."
Asked what is the appeal of pole vaulting, Miller responded. "Pole vaulting is my passion. First, it is a novelty. Ninety percent of people have never seen it.
"Next, it is a bit of a thrill. You are literally launching yourself over a giraffe," Miller explained referencing the fact that a giraffe can grow to 19 feet in height from its hoof to its crown. "And third, the longer I've been in it, vaulting is becoming my community of people, my social group. You meet all kinds of people from across the country, and we only meet up at competitions."
Miller told how on occasion he has missed the mat a few times. The secret to a good landing, Miller said, is to stay calm when up in the air. "Spot your landing. If you hold onto your pole, it can slow you down."
SAM KENDRICKS, the 2016 US National Champion who set the US Olympic Trials pole vault record and is the 2017 World Champion, won Gold at the 2018 USA Track & Field Outdoor Championships with a 19-foot 2.25-inch pole vault. Chris Nilsen earned Silver with a 19-foot 0.25-inch vault, and Cole Walsh won Bronze vaulting 18 feet 10.25 inches.
"We are thrilled to have the USA Track & Field Outdoor Championships back in Des Moines," said Greg Edwards, President, and CEO of Catch Des Moines. "This allows us the opportunity to host visitors from across the country…it also gives the community the opportunity to watch former, and future Olympians compete."