Fairfax — One night a week, Danielle Gilbert is in her kitchen baking several trays of her homemade brownies that are the main ingredient in the brownie sundaes at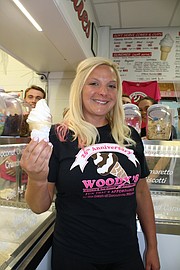 Woody's Ice Cream in the center of Old Town Fairfax. In the twenty years that Woody's has been an ice cream favorite in Fairfax, it's this dedication to home baked, small business, family establishments that's kept Woody's an ice cream destination in the City of Fairfax.
"I'm a big believer in shop local and shop small, it's nice to have the community support," said Gilbert, owner and manager who took over when her grandfather Woody Lashley Jr. retired in 2010. Although she's added a few more bells and whistles at Woody's in the last eight years, like a computerized ordering system, a wider variety of toppings and hand-dipped ice cream, she's still seeing the same faces every year. "They're still coming here 20 years later, that's what's nice," Gilbert said. "When some of the customers come in, I know exactly what they want so I have their order ready," she added.
Allison and Andreas Moffett have been coming to Woody's since they were children, and still walk over from their home in the City. "I like that it's all local, that's fun," said Allison.
The Splash Park right across the street is a good combination on hot summer days. Ed Baroody Jr. was over at the park babysitting, and liked the fact that Woody's was so close. "I had vanilla that was really good," he said.
In 1998, when Woody's was in another location in the city, Gilbert was a senior at Fairfax High School, and came in a few times a week to help her grandfather out. At one point, he lived in the apartment over the shop, and they only had soft serve ice cream at that time, which they were known for. He still comes in several times a week. "Fun That's Affordable" is the slogan that he made up, and their bargains start with a cone at $3.15, and tee shirts at $10.
The brownies are no secret either. "I make them from scratch, everyone knows, I sell out of them," she said. One of the current employees even branched out from the brownie sundae and made another version called the "dirty brownie," that is a big seller too. "One of the employees made that up," said Gilbert.
To keep with the hometown, ice cream theme, tunes from the 1950s are played over the sound system, and there is a large porch with tables that gets crowded every summer night. They are pet friendly too, serve "pup cups," with a small scoop in cup for the dog.
Woody's has a connection with the auto business that is coincidental, but makes Gilbert smile when it's brought up. Her grandfather started the business
Where and When
Woody's Ice Cream
10435 North Street
Fairfax
703-277-9553
Sunday: noon-8 p.m.
Monday-Thursday noon-9 p.m.
Friday and Saturday: noon-10 p.m.
after retiring and selling "WT Auto Body," that he owned for years, and now his granddaughter owns Fairfax Towing, Quality Auto Body and Northern Virginia Auto Recycling with her husband. Woody's closes every year in late October and reopens in April. Gilbert takes a break then. "One less business I have to worry about," she said.