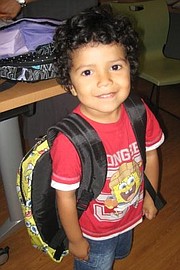 School backpacks already? Arlington Partnership for Affordable Housing (APAH) is asking the community for assistance in providing 550 backpacks for children living at APAH rental properties and Offender Aid and Restoration is asking for assistance with supplies for about 200 children of of parents currently incarcerated in the Arlington County Detention Facility.
Children from two of the APAH properties attend Barcroft Elementary School, which begins its modified school schedule Aug. 6. Julie Booth, the volunteer program manager, says, "We are asking to get these early backpacks for Barcroft by Monday, July 23." She adds that "some of these children are just starting kindergarten and it is such an exciting time. They will be receiving their first backpack."
Booth suggests people can adopt a grade and gather their neighbors or co-workers and have a backpack filling party, completing as many backpacks as they can. Or fill a backpack for a APAH child in the same grade and include a personal note. Or choose one of the 15 APAH properties and commit to fill a certain number of backpacks for that location. She says St. Mary's Episcopal Church and Arlington Temple United Methodist Church have already committed to filling all of the backpack needs for two of the 15 communities.
Basic supply lists by grade can be found at the APAH website.
Filled backpacks should be delivered to APAH headquarters at 4318 N Carlin Springs Road on Aug. 16-17 from 10 a.m.-5 p.m.
For more information or questions, contact Julie Booth at 571-800-6462 or jbooth@apah.org
Offender Aid and Restoration (OAR) is also collecting school supplies with a cutoff date of Aug. 1. According to Heather Pritchett, director of development and outreach, "We are collecting new, unwrapped backpacks, notebooks, notebook paper, pencils, pens, markers and crayons. We are also collecting books for children who are younger than school age and $25 gift cards to Target and Amazon." She adds, "We aim to give each child a backpack, 3-4 supply items and a gift card."
Pritchett says a full list of the items they need can be found at http://bit.ly/PBwishlist. In addition, OAR is collecting financial contributions for such things as mailing supplies to children who live outside the delivery area.
OAR is also looking for businesses, community centers and other public spaces where they could place a donation box to help collect items. OAR will provide the space with all necessary materials. Anyone interested in hosting a donation box can contact Heather Pritchett at hpritchett@oaronline.org.
In addition, OAR is seeking volunteers between July 12-Aug. 1 to help call guardians of the children of incarcerated parents to confirm delivery information for the school supplies. Each child who receives a backpack will find a note from the incarcerated parent letting the child know they are not forgotten. Volunteers should contact abreville@oarnline.org for more information about volunteering.
The deadline for backpacks and supplies is Aug. 1. They may be dropped off at the OAR office at 1400 N Uhle St., Suite 704 during business hours Mondays-Fridays, 8:30 a.m.-12 p.m., 1-5 p.m.
Pritchett says, "This program is so important because many children with a parent experiencing incarceration live in poverty and cannot afford these critical supplies for school." OAR's slogan is Strengthening Community Through Second Chances. Today it serves the county of Arlington and the cities of Alexandria and Falls Church by working with individuals who have been incarcerated to assist with successful reentry into their communities.