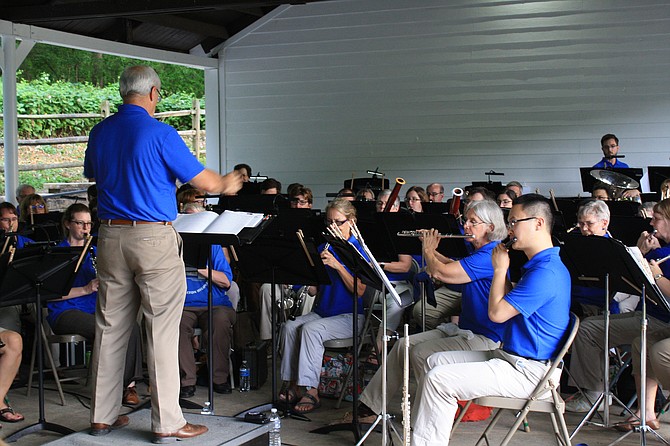 Burke — The Braddock Nights concert series lives on since then-Supervisor Sharon Bulova started it nearly 10 years ago, and the beat goes on throughout the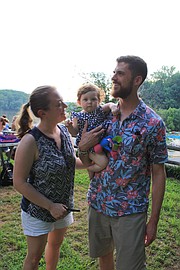 summer. To kick off the series this year, the "Main Street Community Band" filled the pavilion at Lake Accotink last Friday with big band sounds of the summer.
The concert began with a medley of Beach Boys tunes, led by conductor Geoffrey K. Seffens. "You just can't beat that to start your summer," he said at the end of the musical rendition. The band went into a 1925 baseball song called "The National Game," and continued for the next hour to an enthusiastic crowd. The band sounds were occasionally interrupted by the train that flew by about 100 yards from the pavilion, but no one seemed to mind.
The emcee was Meghan Walker who is a member of the Friends of Lake Accotink Park. She unveiled this year's official Braddock Night's tee shirt which she referred to as a "collectors item." Some members of the audience were wearing last year's tee shirt.
Walker is a supporter of the lake and is following the county decision to dredge it or not. It's filling up with silt carried into the lake by storm water drains and creeks. Braddock Nights "wouldn't be the same without the sunset over the lake," she said.
"Carol the Mom," as she called herself, was watching her daughter Sharon, who played clarinet in the band. Sharon started on clarinet back in elementary school and continued into high school at Lake Braddock Secondary School, and then into college. "She just enjoys it, she enjoys the comradery of the band," she said.
On a bench down by the water, Megan Huber was reading her book, but within earshot of the band. She is a Vienna resident that had driven her friends who were in the band. "A perfect spot, I had no idea this was here," she said.
Next Friday at Lake Accotink, it will be the sounds of Karl Stoll and the Danger Zone. There is another Braddock Nights concert series every Friday at Royal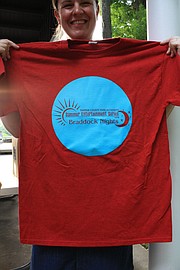 Lake in Fairfax.
Concerts Schedule
Braddock Nights shows are at Lake Accotink Park, 7500 Accotink Park, Springfield, or Royal Lake Park, 5344 Gainsborough Drive, Fairfax. Showtime is 7:30-8:30 p.m.
* Lake Accotink Park
Friday, July 6: City of Fairfax - Main Street Community Band (Concert
Band)
Friday, July 13 Karl Stoll & The Danger Zone (Rock, Blues)
Friday, July 20 BG & The Mojo Hands (Blues, Swing, Rockabilly)
Friday, July 27 Marian McLaughlin Ensemble (Chamber, Folk)
Friday, Aug. 3 Empty Bottle String Band (Old-time, String Band)
Friday, Aug. 10/2018 The Ragbirds (Folk, Roots, Pop)
Friday, Aug. 17 City of Fairfax Band - Alte Kameraden German Band
(German)
Friday, Aug. 24 St. Stephens United Methodist Church Youth Band
* Royal Lake Park
Friday, July 13 Gina DeSimone and the Moaners (Blues, Swing)
Friday, July 20 BG & Laura Lea & Tripp Fabulous (Party Rock, Cover Band)
Friday, July 27 Natty Beaux (Swing)
Friday, Aug. 3 Veronneau (World Jazz)
Friday, Aug. 10/2018 Frankie Addison Band
Friday, Aug. 17 Thrillbillys (Roots)
Friday, Aug. 24 Mars Rodeo (Rock)