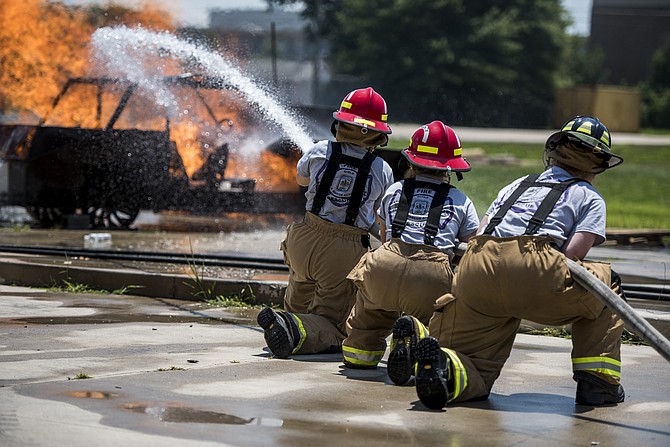 Eighteen girls are attending camp Monday through Friday from 8 a.m. until 5 p.m. for the second session of the Fairfax County Fire and Rescue Department's Girls Fire and Rescue Academy. The purpose of the academy is to build the girls' confidence in their unique abilities, push them beyond their comfort zone, and to learn the value of supporting others rather than putting them down.
Monday began with team-building exercises that continued all week to emphasize the importance of communication and working together. Then the girls learned how to put on firefighter personal protective equipment (PPE). They learned about the Fire Prevention Division and talked to a few of the Fire Marshals about what their job is like. In the afternoon, they learned about medical skills, including patient assessment, how to measure vital signs, intubation, splinting, patient moving devices, epi pens, cardiopulmonary resuscitation, and 12 lead EKGs.
Tuesday began with physical fitness training, which was a combination of body weight exercises and activities firefighters perform, such as raising ladders and climbing stairs. Then they changed into their PPE and learned about ladder truck operations: searching, forcible entry, and riding in the tower bucket 100 feet in the air. During lunch they were treated to a visit by Belle, one of the department's therapy dogs.
In the afternoon, they learned about trauma; spinal immobilization, chest decompression, and how to stop bleeding using wound packing and tourniquets. Then they used their newly acquired skills to respond to simulated emergencies, including an auto accident with a pedestrian struck. The scenarios were similar to the basic emergency medical technician (EMT-B) certification test and the girls did great.
Wednesday's physical fitness training involved partner exercises — "you go, I go." One person completes repetition of a specific exercise and then they tag their partner who does the same amount of the same exercise while the first person rests. Working together to accomplish missions in many different ways is an important part of public safety. Afterwards they learned about the use of canines in arson investigations.
Then they were back into their now familiar PPE for engine company operations; getting water from a hydrant, pulling hose lines and re-racking them for deployment, and flowing water.
They put these skills together and worked in small groups to extinguish car fires using a propane car fire simulator. After learning about master streams, which of course involved getting wet on a hot afternoon day, the girls came inside to learn how to tie knots with rope and webbing, mechanical advantages with pulley systems, and extrication tools.
Thursday the girls went to the department's Wellness and Fitness Center to learn the importance of fitness and proper body mechanics. The girls watched Technician Black complete the work performance evaluation that is required for all Fairfax County firefighters on an annual basis. Then they participated in the Candidate Physical Abilities Test which is one step in the process to become a firefighter.
Later, they worked with Virginia Task Force One, one of only two internationally certified Urban Search and Rescue Departments in the United States. They learned about various search techniques using cameras, listening devices and canines.
Friday they visited the police helicopter unit to learn how they assist on medical calls as well as their police function. They also heard from the Explorers (the county volunteer fire and rescue program for high schoolers), the high school cadet program, and representatives from the Volunteer fire stations.
The afternoon involved hazardous materials training including working in hazmat suits and using meters. Graduation was in the evening with the families and station personnel to celebrate their accomplishments.
We appreciate all the support and donations we have received from the Fairfax County Fire and Rescue Department members and leadership, Centreville Volunteer Fire Department, Dunn Loring Volunteer Fire and Rescue Department, Franconia Volunteer Fire Department, Greater Springfield Fire Department, McLean Volunteer Fire Department, Fairfax County Volunteer Fire and Rescue Association, Battalion 7, B & B Associates, FireVMS.com, Chick-fil-A, and Mission BBQ.