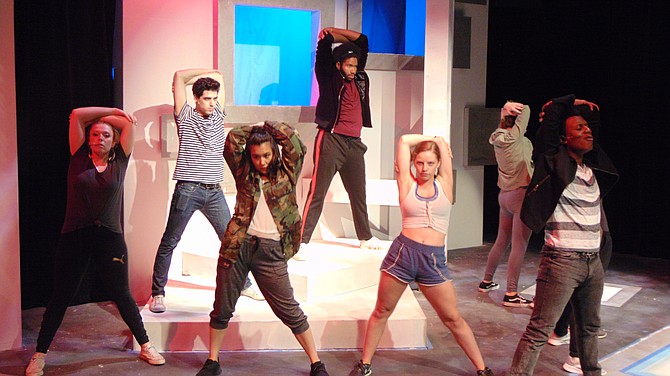 The Monumental Theatre Company, in residence at Episcopal High School in Alexandria, is presenting the Schwartz/Hirson musical, "Pippin," as told through a millennial lens from July 13-30 at its West Braddock Road venue.
"'Pippin' is the story of a young man who has graduated from college and is trying to find his place in the world. He tries out being a soldier, tries out living the simple life to find what extraordinary thing he can do to leave his mark on the world," said Director Rebecca Wahls of Alexandria.
With 11 cast members, she said the show is about self-discovery, and composed by Stephen Schwartz in the 1970s — the same person who did the Broadway hits "Wicked" and "Godspell." "It's upbeat, energetic songs that are going to be stuck in your head forever. There's iconic music like 'Corner of the Sky' and 'Magic to Do' that people may have heard of — some really favorite musical theater moments," she said.
Wahls said since the musical is from the 1970s, they didn't want to put on a production that felt outdated, "so the main point was how do we make this story feel like it's happening like today," she said. To remedy that, "Everyone is dressed in a very modern way; everyone has cell phones and devices as props — things that would have never happened in the 1970s. When Pippin accomplishes something spectacular, everyone has their phones and they're live-streaming that," she said.
For audience takeaways, she added: "Pippin wants to do something extraordinary, so I hope people take away that your place in the world is unique to you and freeing yourself of expectations of your family or friends or yourself, you can find your own unique, extraordinary life."
Beth Amann, managing director of Monumental Theatre, added: "'Pippin' had a revival in 2013 and they reimagined the show in a circus theme with a ringmaster; whereas the 1970s version had stylish Bob Fosse choreography. In the latest version, instead of having people on trapezes and cages, they are on their cell phones. So, we're doing something totally different from that. I think it's familiar enough, so if you know the plot to it, you'll be encouraged to come."

Tiziano D'Affuso, 25, of North Potomac, Md., plays the main role of Pippin. "He doesn't settle. That's one thing I like about him. He thinks going after the things society wants him to go after is too easy. He just wants more. He thinks there's more," he said. "He's a Prince. He could just easily wait to get a wife and wait for his father to die because his father is King and he's next in line for the throne. He's a dreamer; he has these huge childlike dreams and looks at everything with a different lens."
As far as challenges, he said: "Technically speaking, the music is not that easy. There' a lot of high-belting happening, and I consider myself a good mover but not a strong, trained dancer; I don't have any formal training in dance."
He added: "I think it's about human connection and life can be beautiful by being simple. It doesn't need to be this huge, extraordinary out-of-this-world experience or wild ride. It's OK to find simple things, to find love — it's OK to love yourself."
Chani Wereley, 23, of Washington, D.C., plays the role of Catherine, the love interest. "So, Catherine is a woman who finds Pippin on the side of the road and decides to take him in, so she takes care of him on her farm and they fall in love," she said. "They fall in love and other things happen. She's a very interesting person; she has a lot of anxiety. She's a good reflection of anyone today who has gone through hardship."
As far as takeaways, she said: "I hope that (audiences) can see that they can get through anything that life throws at them and come out better than before."
Solomon Parker, 23, of Silver Spring, Md., plays the role of the Leading Player, the narrator of the show. "In the world of Pippin that we've created, my job is to take the audiences through the ups and downs of life and to always inspire people to reach for more, and I hope that by the end of the show I can accomplish my grand finale," he said.
He added: "For the entire show I'm trying to get Pippin to achieve something great in his life — after sending him through war and love, I present him with an offer that he's not going to be able to refuse."
As far as challenges, he said: "The first challenge was just with the text and vocally. The role was played by a woman, Patina Miller (in the Circus Broadway revival). I was trying to find my way to add my masculinity and charm to the character but still present something people can identify and be entertained by."
This is the third year in residence for the Monumental Theatre Company at Episcopal High School — having done 16 productions since 2016. In addition to stage productions, it does cabarets, developmental and new readings, the Page-to-Stage festival at The Kennedy Center, and the Capital Fringe Festival.
The "Pippin" cast features Solomon Parker, Tiziano D'Affuso, Chani Wereley, DeCarlo Raspberry, Rachel Barlaam, Kaitlin Kemp, Justin Sumblin, Steven Labovitch, Aiden Brennan, Lawrence Hailes, Allie O'Donnell, and Amanda Leigh Corbett. Understudies include: Morgan Taylor, Ashton Schaffer, Christina Jordan, and Ben Peter.
The creative team includes Rebecca Wahls (director), Leigh Delano (music director), Ahmad Maaty (choreographer), James Raymond (set designer), Jason Brinke (lighting designer), Richard Farella (props designer), and Kateri Kuhn (costume designer).
Pippin will be presented at Episcopal High School's Ainslie Arts Center, 3900 W. Braddock Road, Alexandria, from July 13-30. Show times are 8 p.m. Thursdays through Mondays, and 2 p.m. matinees on Saturdays and Sundays. On Friday, July 20, there is a late-night 10 p.m.show. Tickets are $40. The preview performances are this Friday and Saturday for $30. Visit www.monumentaltheatre.org.