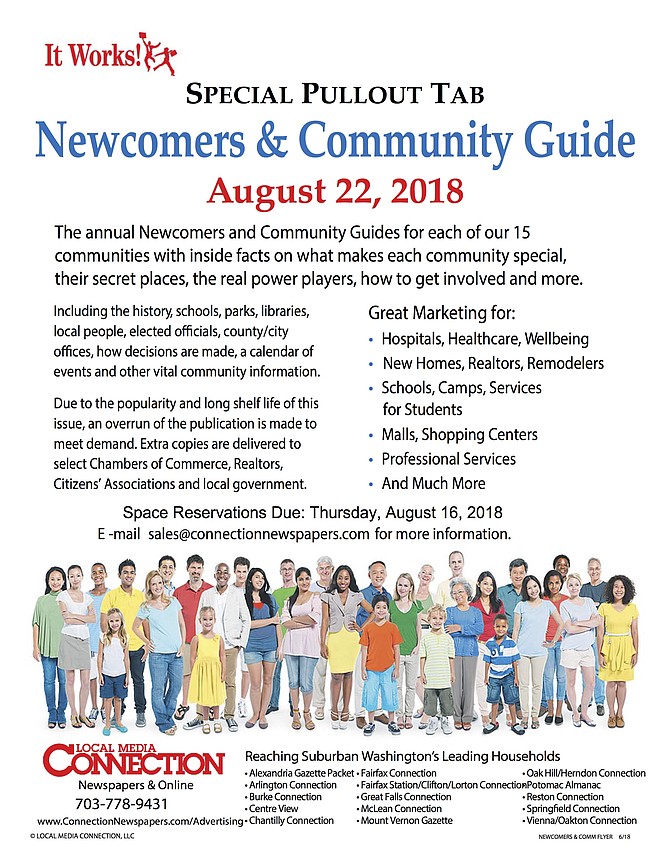 Will Your Business or Organization Be Featured in the 2018-2019 Newcomers & Community Guide?
Publishes: Aug 22, 2018 • Ads close: Thursday, Aug 16, 2018
Our award-winning annual Special Pullout Newcomers and Community Guides for each of our 15 communities with inside facts on what makes each community special, their secret places, the real power players, how to get involved and more will publish on August 22, 2018.
Each edition includes our prize-winning Insiders Guide to the Parks, the history, schools, libraries, local people, elected officials, county/city offices, how decisions are made, a calendar of events and other vital community information. Due to the popularity and long shelf life of this issue, an overrun of the publication is made to meet demand. Extra copies are delivered to select Chambers of Commerce, Realtors, Citizens' Associations and local government.
Great Marketing opportunity for:
Hospitals
Healthcare
Wellbeing
New Homes
Realtors
Remodelers
Schools
Camps
Services for Students
Malls
Shopping Centers
Professional Services
And much more!
For print and digital advertising prices in the 2018-2019 Newcomers & Community Guide, please email us or call 703-778-9431. You may also view last year's editions here by scrolling down to "Newcomers & Community Guide". Let's discuss how to partner with our trusted brand names to reach your audience.