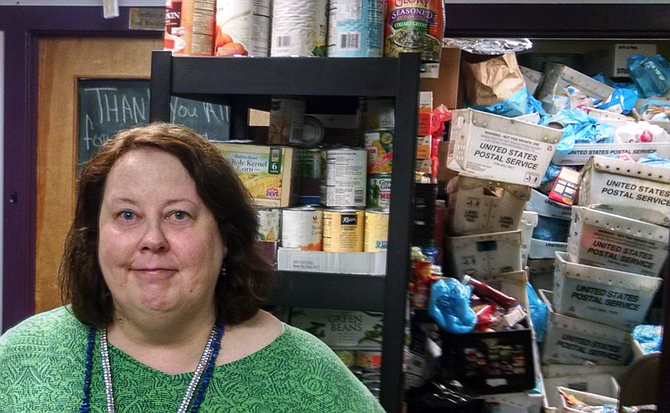 Hungry Fairfax County residents will enjoy nourishing food over the next few weeks thanks to Rising Hope's partnership with Stamp Out Hunger.
On the second Saturday in May, the National Association of Letter Carriers sponsors this drive, turning it into the largest one-day food drive in the U.S. This year, Rising Hope's new food pantry coordinator, Kathleen Simons, oversaw the replenishing of Rising Hope's pantry with nearly 15,000 pounds of canned goods and nonperishable food items.
"We cannot thank the generosity of area residents and postal workers enough for feeding the hungry in our region," Simons said. "We received enough food to fill our pantry and lessen area hunger as we go into early summer. Many thanks to all the volunteers who coordinated getting the food to us so that we can continue this essential service to our neighbors."
Rising Hope's food pantry provided groceries to 715 families in April. In 2017, the pantry supplied more than $1,200,000 in food to those in need along the Route 1 Corridor in southern Fairfax County.
Stamp Out Hunger celebrated its 26th drive this year. The campaign has collected almost 2 billion pounds of food over the years from across the U.S.
The Rev. Dr. Keary Kincannon of Rising Hope said, "Our partnership with the Post Office is the largest single one-day donation from anywhere in the community. For 20 years, it's been an important resource for feeding our neighbors and friends in need."
Rising Hope will distribute this food to those who visit the pantry over the next few weeks. Recipients register with Rising Hope to ensure that they go home with the food they need for their families. At this time of year, a special concern is that children who rely on school lunches for a significant portion of their nutrition will not go hungry during the summer when school is not in session.
For more information about Stamp Out Hunger, visit www.nalc.org/community-service/food-drive.
For more information about Rising Hope, visit www.risinghopeumc.org.