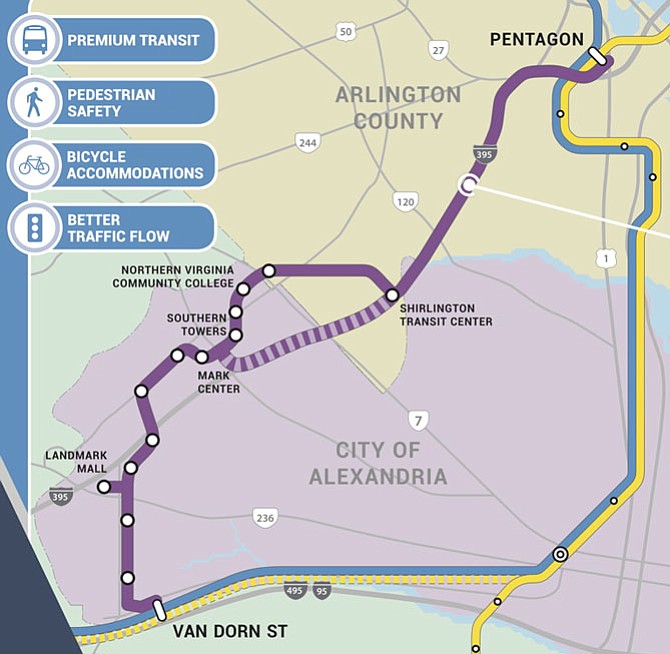 May has been a rough month for transit in Alexandria. First, the new Potomac Yard Metro station was scaled back. And then, last week, the staff of the Northern Virginia Transportation Authority (NVTA), a regional body, recommended slashing Alexandria's funding request for bus rapid transit (BRT) lanes in the West End — a significant element of the city's transportation and economic development plans.
Local jurisdictions submit funding requests for transportation infrastructure projects to NVTA, which then doles out monies — largely from regional taxes and bonds — on a competitive basis. NVTA is currently considering how to whittle down 60 candidate projects, requesting a total of $2.5 billion, to match the $1.3 billion available. Alexandria's flagship request was $61 million for the first phase of the West End Transitway — BRT lanes between Landmark Mall and the Pentagon. In a later phase, these lanes would also extend to the Van Dorn Metrorail station. But after the public comment period ended on May 20, NVTA staff recommended cutting the requested sum by 96 percent to only $2.2 million. The NVTA board, comprising elected officials from regional jurisdictions, will make a final decision on June 14.
NVTA staff didn't think Alexandria had brought the project to a sufficient state of planning readiness.
"Staff was concerned that design wasn't advancing based on information received from the city, thereby making it difficult to recommend additional funding at this time," said Monica Backmon, NVTA's executive director.
She says NVTA already allotted $2.4 million, as part of its FY 2015 - FY 2016 program, for project design, but that Alexandria has drawn down relatively little of that money. A May 4 NVTA report says: "[Alexandria is] in the process of resuming the design portion of Phase I of the project" — "resuming" implying that planning had stalled. NVTA staff thinks it's a good project, but would want to see further advancement through design monies before justifying the full ask.
Yon Lambert, the city's transportation and environmental services director, said in an email: "The city is disappointed the NVTA staff recommendation for West End Transitway does not reflect the funding requested…. It was especially surprising to us since it scored in the top 30 of projects for both NVTA TransAction and CRRC (Congestion Reduction Related to Cost)." On these two indexes for project comparison, the West End Transitway ranked 27 and 25, out of 60 candidate projects.
Lambert characterized NVTA's perception of the project's lack of readiness as resulting from miscommunication. He says that the project is more or less advancing as planned and that he wasn't aware NVTA had any concerns until after they released their staff recommendations last week.
"The city has made progress on the design phase of the project and is actively working with key stakeholders along the corridor. Also, the city is working closely with NVTA to resolve technical issues related to outstanding reimbursement requests," he said. Reimbursement is how the city taps into its prior allocated funding from NVTA. No reimbursements have yet been completed, according to the May 4 report. But the city has spent close to $1 million to make surveys of the transit corridor — "a pretty significant move forward," said Allan Fye, Lambert's division chief of transit.
"As with any large infrastructure project, staff is actively pursuing several funding opportunities to advance the project, including: the U.S. DOT's BUILD (Better Utilizing Investments to Leverage Development) Discretionary Grant Program; the Commonwealth's SMART SCALE program; and future rounds of NVTA [competitive regional] funding. The city is committed to this vital transit project that will connect the West End to the Metrorail system and support walkable, livable redevelopment along the corridor," said Lambert.
Backmon says the NVTA staff recommendation won't change at this point, but that the NVTA board could decide to allocate funding differently. If the city doesn't get funding approval in this round, it'll apply again for FY 2020. Funding approved in this round might not become available until that later timeframe, anyway.
The West End Transitway would be one of "three primary transit corridors within secure rights-of-way [property for additional lanes acquired through redevelopment] dedicated exclusively to transit use." Together, these corridors comprise the backbone of the city's long-range Transportation Master Plan (TMP). With fewer stops and no competing traffic, these would feed Metro and other major transit arteries, providing an alternative to private vehicles.
The West End Transitway would also serve to bolster economic development.
"Because they basically don't have good transit connections," West End office buildings are "empty," said City Manager Mark Jinks at a March 7 budget work session. "If we want Landmark to succeed, and we want the commercial parts of the West End to do better, our future is really based on BRT [bus rapid transit] being successful."
"The planned BRT" comprises one element of the city's "pitch to [office building tenant] prospects looking at space in the West End," said Stephanie Landrum, executive director of the Alexandria Economic Development Partnership (AEDP), in an email.
Mayor Allison Silberberg, Alexandria's representative on the NVTA board, said: "Clearly money is tight at NVTA, given the changes to our funding at the Authority. There are many projects at NVTA with a high priority and it's my understanding that some are more ready to go. But we are still pushing for the West End Transitway, and it still needs help."
Vice Mayor Justin Wilson said in an email: "This is a very disappointing development. This is an important project for our city's future and I will push to ensure we keep it on track." He'll push by "fighting for regional/state dollars, working with private landowners for rights-of-way, and phasing in the project over time."
Other elected officials didn't respond to a request for comment.