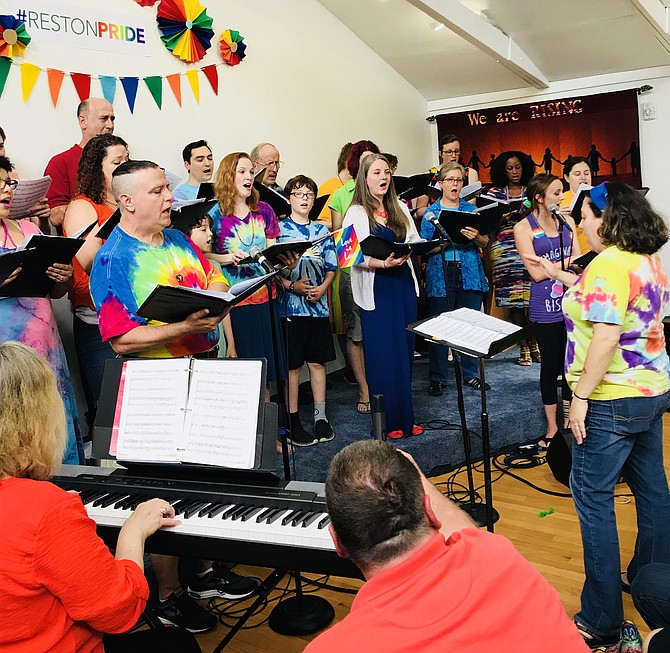 On Saturday, June 2, the Unitarian Universalist Church in Reston (UUCR) located on Wiehle Avenue sponsored the first-ever Reston Pride Festival from 2-6 p.m. The family-friendly, alcohol-free event occurred during Lesbian, Gay, Bisexual and Transgender Pride Month, first proclaimed in 2016 by Barack Obama, then President of the United States of America by Presidential Proclamation. He called upon the people of the United States to "…eliminate prejudice everywhere it exists, and to celebrate the great diversity of the American people." Reston Pride aimed to support and celebrate the local vibrant LGBTQ community as it promoted acceptance and awareness in a festive, affirming atmosphere.
THIRTY MINUTES AFTER the festival opened, organizers reported 350 people had already entered the doors of the church, with overflow going outdoors to the covered pavilion. Although the celebration was scheduled as an outdoor festival, forecasters predicted unsettled weather with pending rain, so the majority of the event's activities were moved indoors.

While Reston Pride featured ten performers, presentations by area political and faith leaders, 35 booths and exhibits, food and music, voter registration and free HIV testing and counseling were also available throughout the day. According to a press release by UURC, sponsors of Reston Pride, the event was cosponsored by 18 Reston area-based organizations including six other churches and synagogues, Cornerstones, and the YMCA, as well as several corporate sponsors.
Mama Celeste emceed Reston Pride. According to UUCR, the San Francisco Chronicle described Celeste as "one of the up-and-coming drag performance artists in the Bay area."
Reverend Doctor Debra Haffner is the minister at UUCR. In her opening remarks to the standing room only crowd she said, "We are thrilled to bring the first Pride Festival to Reston. Despite Reston's fifty-year commitment to the inclusion of LGBTQ, there has been little recognition. Today we change that." Haffner shared she was so proud to introduce her son, Mama Celeste, a drag performance artist for Reston Pride and emcee for the event.
Celeste readily took to the stage surrounded by wild applause. She acknowledged she had never pictured herself in Reston performing at an LGBTQ festival in a church that her mother was the minister. "You are all making this happen," Celeste exclaimed.

Mayor of Herndon Lisa C. Merkel spoke next. She said, "I think this (event) is so important. It affects so many families." Merkel stated that next year, she would like the festival to be a Reston-Herndon event.
Kenneth R. "Ken" Plum, State Delegate (D-36) echoed Merkel's sentiments. "I am so proud of our inclusive community. I am proud to represent you, and next year let's make this a Herndon-Reston event."
Steve Kimball and Joseph Nicholas of Reston sat in the audience. Asked for their comments, Nicholas said, "Reston had a reputation of being an open and progressive community. I think having the Pride Festival shows concern going into the future. It shows gay people are our friends, our neighbors, and those who live next door." Kimball added that just driving by the church and seeing the acceptance flags was a friendly reminder.
CORNERSTONES was one of the many cosponsors for the event, each of whom, according to the UUCR media release made a commitment of financial and volunteer support for Reston Pride. Karen Pope serves on the Board of the Herndon Neighborhood Resource Center, part of Cornerstones.

Asked for her reaction to the event and what it meant, Pope said, "This is something that was needed. It allows members of the LGBTQ community, different faith-based organizations, and different generations under one banner of inclusivity."
UUCR encourages people to visit Reston Pride on Facebook (www.facebook.com/RestonPride/), Twitter (www.twitter.com/RestonPride) and online at www.uureston.org/reston-pride