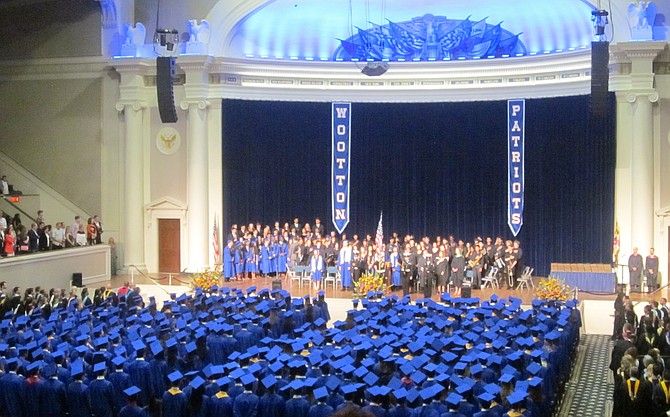 Graduation Day. A goal achieved for 536 Seniors from Thomas Sprigg Wootton High School at DAR Constitution Hall May 30.
"This class is just really sweet, and they take care of each other," Principal Kimberly Bolden said of the 2018 graduates. "To a kid, each one who came across the stage said 'thank you'."
Bolden addressed the students and guests at the graduation ceremony, reminding them of the challenges the class faced together. They had to come to grips with the unexpected death of the school's long time principal Dr. Michael Doran as they began their sophomore year, and again, before senior year, the death for Joseph DuBoyce, a Wootton vice principal and Class of 2018 administrator.
Using an expression typical of DuBoyce, Bolden started her remarks to the students with "It's going to be a great day."
"That was how [DuBoyce] set the tone and expectation for his day," she said. "You graduates have the skills and tools to make each day your personal best."
"Thank you for doing great things at Wootton," she said as she wrapped up her talk.
Of course, Bolton said after the ceremony, a highlight of the graduation was having Haley Skarupa, 2012 Wootton graduate and member of the 2018 Olympic Gold Medal women's ice hockey team, address the graduates.
Skarupa said she was honored to be back at Wootton.
"This is home, and this is where it all begins," she said. "I remember [graduation] wondering about my life … while thinking I had it all figured out."
She shared her story of becoming an Olympian … the years of skating for Boston College, a school, she said, that challenged her to become a better version of herself.
Then the ups and downs of Olympic Trials: being invited to camp, being sent home, not one of the final 20 to make the team.
"I did not make the team," she said. "I had no plan, no feeling, I didn't know what to do."
So, she said, she walked dogs. Yes, she spent a summer as a dog walker, trying to decide what her next move would be.
Then came a call inviting her to work out with the team. Would she take the chance with no promise that she might get a position?
Yes, making the Olympic Ice Hockey team was her goal and she went for it.
"Whatever you are doing next with your life," Skarupa told the graduates, just attack it. You might be scared to fail but how will you ever know if you are afraid to try. Courage is about feeling the fear and doing it anyway."
Wootton, she too told the students, has given them the tools necessary to grab hold and run with whatever they want in life.
Skarupa ended her talk with five things students' should know about becoming an Olympic Gold Medalist: * It is the longest job interview ever, pretty much a lifetime; * We are a family, achieving anything in life is not nearly as fun alone ; * We get nervous, we are human too; * We eat a lot, we train a lot; * There are no guarantees, have confidence to keep going, believe in yourself, it will be worth it.
Finally, she added, "Create your own stories. Go out there and get what's yours."