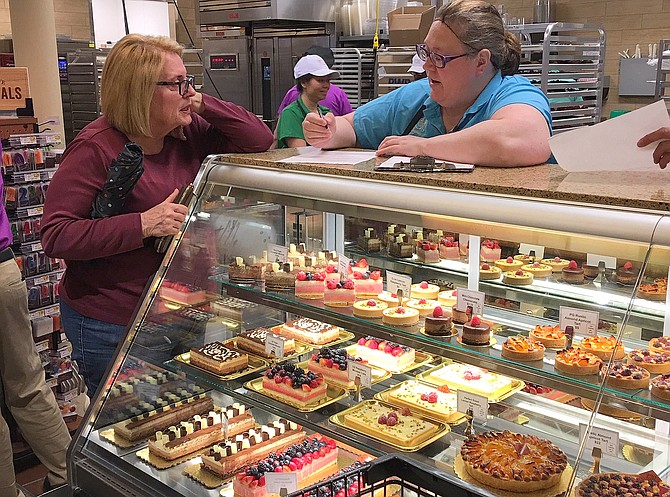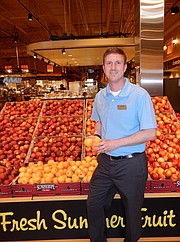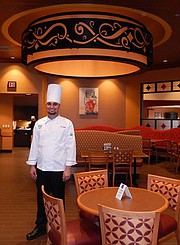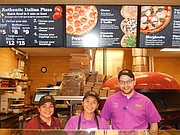 At the new Wegmans in Chantilly, customers may chow down on a bacon cheeseburger with maple-onion jam, enjoy a beet-and-avocado salad, feast on a blackened mahi taco or dine on a prosciutto-and-arugula pizza. And these are just a few of the many offerings in the dining areas.
This 120,000-square-foot store at 14361 Newbrook Drive, off Westfields Boulevard and Route 28, opened last Sunday, June 3 — and, oh, yeah, it also sells groceries. But like all those in the Wegmans chain, it's way more than just a grocery store.
With indoor and outdoor seating for 300, this one also boasts a Burger Bar, Mexican Station, artisan pizza eatery and made-to-order salad bar. And that's in addition to the fresh sushi, sub sandwiches, coffee area and restaurant-quality prepared foods for dining in or taking out.
"It's an amazing store," said Store Manager Brien MacKendrick. "It's our 11th store in Virginia and has all our new concepts. It'll be perfect for the residents and business community. And because of all our new updates, it'll still feel brand new to everyone here in Chantilly."
Part of a retail complex called the Field at Commonwealth, Wegmans is its anchor and has some 500 employees. "We have 115 transfer employees from other Wegmans who chose to work here, closer to their homes," said MacKendrick. "Plus we have new employees who already live here."
Before deciding where to locate this store, said Wegmans spokeswoman Tracy Van Auker, "We did market research and checked the demographics, availability of the site and the population density." And despite the fact that a Wegmans store is already thriving in nearby Fair Oaks, MacKendrick said there's room for both to be successful.
"With all the population here, we know the area can support a second store," he said. "It's going to be convenient for the folks of Centreville and Chantilly — and, I think, a welcome addition to the area."
Wegmans' 97th store is open daily, 6 a.m.-midnight, with customers entering via the produce department. "It's where we got our start," said Van Auker. "And it's where we put our emphasis on helping our customers live healthier, better lives. We offer over 140 organic choices in produce and 4,000 organic products total throughout the store."
"We have our own, organic farm and we also work closely with 30 partner, organic-growing farms for our produce," she continued. "And we'll even cut up fruits and vegetables to order for the customers."
The Buzz coffee shop has organic specialty coffee, tea and espresso drinks, plus coffee syrups with no artificial colors, flavors or preservatives. "We offer 10, different varieties a day of brewed coffees and roasts," said coffee merchant Donna Kittrell. "Our specialty summer lattes are the Caribbean Getaway, Coconut and Salted Caramel, Vanilla Macaroon and Bananas Foster."
Organic smoothies and frappe freezes are also available, plus breakfast sandwiches with muffins or croissants. Kittrell's also excited about the shop's cold-brew coffee infused with nitrogen. "Nitro, cold-brew coffee is the Guinness of coffees," she said. "It's really on trend right now." Customers may also buy a reusable cup and get 50 cents off future, 16-ounce beverages there.
BURGERS, TACOS, PIZZA, SALADS
This Wegmans features the first, built-in Burger Bar in Virginia. The five, specialty burgers ($8-12 each) include a bacon cheeseburger with maple-onion jam and chipotle aioli, a classic quarter-pound cheeseburger and a black-bean burger topped with guacamole and tortilla chips.
Or choose a chicken-avocado BLT, crab-cake or grilled-salmon sandwiches or a chilled lobster roll. There's a variety of salads ($5 for a half-salad, $9 for a full); plus six kids' meals, as well as sides including sweet-potato fries, soup or vegetables. Also available are root-beer floats, specialty milkshakes, frozen custard, beer, wine and margaritas.
People may order at the counter, eat in the casual restaurant there or take their food to the outdoor seating. There's even a section with children's programs on a TV. Halit Ozdemir is the store's executive chef, and he's delighted to offer customers a full-service restaurant, especially with all the businesses in the local area. He also believes the food quality will bring them back.
"We have fresh patties made in-store every day," said Ozdemir. "You can come here for lunch or dinner, and it's a one-stop destination for everything. Whether you want burgers, tacos, sushi, salad or pizza, it's like a trip around the world."
While the pizza shop offers create-your-own pizzas, the highlights are its authentic, artisan pizzas. And, said Van Auker, "The cool thing is that they're all made right in front of you."
Featured pizzas include the caramelized onion and Applewood smoked bacon with balsamic glaze; Margherita with fresh mozzarella, tomato sauce and basil; mushrooms and truffle; pesto, tomato and spinach; prosciutto and arugula; and white cheese and roasted garlic. They come in small (two slices), medium (four slices) and large (eight slices), and some are available by the slice.
"We use a gas-fired, brick oven; the stone is made from volcanic rock from Mt. Vesuvius," said pizza artisan Sean Mazary. "Our flour and sauces come from Italy, and we cook the pizzas at 800 degrees for 2 minutes. The oven and our high-end, artisan toppings make our pizzas authentic."
At the Mexican Station, customers may create their own burritos, bowls, quesadillas, soft tacos, salads or nachos. Or they may order the soft tacos: Red chile beef, pork with salsa verde, cilantro lime chicken, chargrilled steak, braised mushrooms or blackened mahi.

And, said Van Auker, "A first in our Virginia Wegmans is our made-to-order salad bar, It's our third in the company, and it's had great success in the first two stores." Customers choose from fresh greens and grains, four proteins and 10 dressings. Or they may order specialty salads such as Asian Sesame, Harvest, Caesar and Beet and Avocado.
BEER, WINE, HEALTH, FLOWERS
As for the store, itself, besides grocery and nonperishable items, Wegmans' natural-wellness area offers products for people with special dietary and allergy needs. There's also an international section, plus a large selection of wine and beer for a range of tastes and budgets.
Available are more than 800 different beer options, as well as a large "Craft Your Own Pack" cooler where people may fill a six-pack with a half-dozen craft beers of their own choosing. That way, they can sample different varieties and see what they like. Also featured are beers from local breweries, such as Mustang Sally in Chantilly. There's an assortment of Virginia regional wines, too, plus a separate, fine-wine room with a selection of high-end wines from all over the world.
The store has a bakery, cheese section and ready-to-heat prepared foods. Wegmans also offers self-serve, hot and cold, prepared-food bars including: An Asian bar featuring Chinese, Thai and Indian cuisine; vegetarian bar, soup station and homestyle bar with Italian and barbecue comfort foods.
In addition, there's a flower shop, pharmacy, catering section and bulk-foods area, including a make-your-own trail mix bar. Home and entertaining items are available, too. And Wegmans' Instacart service allows customers to purchase groceries online and have them delivered to their home in as little as one hour.
OPENING-DAY CUSTOMERS
Despite Sunday's heavy rain, thousands thronged to the new store, including Centreville sisters, Cathy Baker and Beth D'Andrade. "I love it — especially the huge selection of produce," said Baker, of Sudley Farms. "And we're hittin' the Burger Bar, Friday night. I'd absolutely recommend this store to others; we've never had someplace like this in Centreville."
"I like Wegmans brands," said D'Andrade of Sully Station. "Their premade foods, like chicken wings, are amazing, and their olive bar is awesome. I also like the large selection of beer and wines. And the long hours are great — we can shop at 10 p.m., if we want to."
Sully Station II's Maggie Duron ate a beef-and-cheese quesadilla there and called it "very flavorful." She also bought mochi ice cream balls to take home. "It's a great deal – 10 for $10," she said. "This store's convenient, just 5-7 minutes from my home, and the prices are really reasonable."
Also praising the quality of the food, her dad, Manuel Duron, said, "I had chicken, beef and steak tacos with guacamole and salsa, and they were delicious. And even with the bad weather today, there's a big crowd."
"I'd recommend this store to anybody," added his daughter. "I'm so happy it opened here."