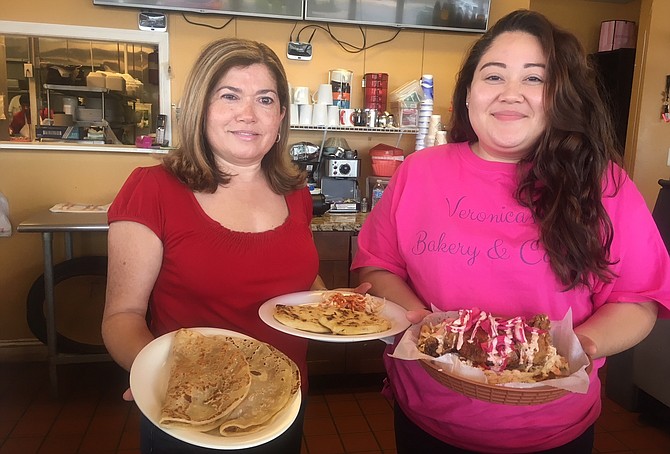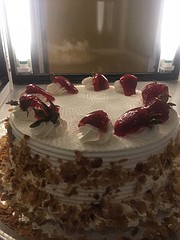 Veronica's Locations
Veronica's Bakery & Cafe
6354 Commerce Street
Springfield
Veronica's Bakery & Cafe
4116 Mount Vernon Avenue
Alexandria
Veronica's Bakery & Cafe
8501 Piney Branch Road
Silver Spring, Md.
With top sellers such as the Pollo Frito Con Tajadas, a chicken dish, or the Baleadas, a flour tortilla dish, Veronica's Bakery and Cafe in Springfield has found its niche.
"I have to make sure it's an authentic recipe," said Ana Salinas, who owns the café, one of three locations, with her daughters Veronica and Rebeca. "Veronica is my oldest, so we named it after her," said Salinas. Although the Salinas are from El Salvador, the cuisine is varied.
Comida Mexicana, Honduran dishes from the Esquina Catracha section, salads, soups and Platos Internacionales, or the International Specials are also offered.
"We cook authentic Spanish, Salvadoran cuisine," Salinas said. "Our own recipe, we don't use preservatives," she added.
They started with Lillian's Restaurant in the Del Ray section of Alexandria and expanded since then to Springfield and Silver Spring, Md. They have a warehouse on South Dove Street in Alexandria where some of the cooking and food preparation is done.
The restaurants specialize in Latin American pastries, desserts & cakes, as well as Salvadorian, Mexican and Honduran traditional cuisine. They also offer custom-made cakes, a variety of pastries and breads, and desserts, as well as catering.
In the November-December time of the year, their specialty is the Gallina Rellena which is a stuffed chicken instead of a turkey. It's not available year-round though.
"Our own stuffing, only for special occasions," Salinas said. Between all three of their locations, she estimated that they cook about 250 Gallina Rellena chickens at that time of year.
They open at 5 a.m. every day, and breakfast, or desayunos, is a popular meal at the café.
www.veronicasbakeryandcafe.com