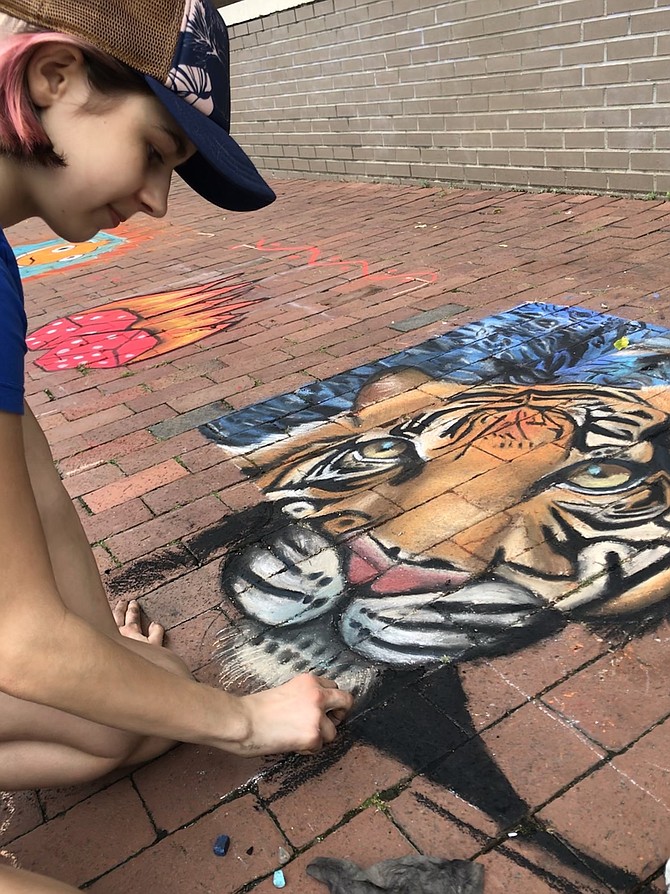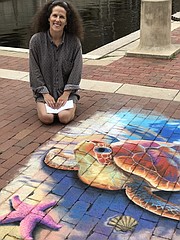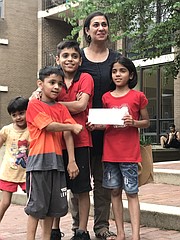 Award Winners
At the Awards Presentation held on the Lake Anne Plaza, Anne Delaney, Executive Director Public Art Reston, announced the award winners for the 2018 Chalk on the Water at Lake Anne as follows:
Professional Artist, 1st Place: Penny Hauffe,
Professional Artist, 2nd Place: Erica Fallin
Professional Artist, 3rd Place: Brianna Camp
Amateur Artist, 1st Place: Maxine Prudhomme & Samantha Burgess
Amateur Artist, 2nd Place: Jennifer Griffith
Amateur Artist, 3rd Place: Tongman Yang
Families & Kids, 1st Place: Faisal Chaudry
Families & Kids, 2nd Place: John Byron
Families & Kids, 3rd Place: Elia Jarrett
Event proceeds benefited Public Art Reston, a nonprofit organization that seeks to inspire an ongoing commitment to public art and create a new generation of artworks in Reston.
Chalk is more than a tool for noting reminders on a blackboard. It is the medium of choice at street painting festivals. On Saturday, June 9 and Sunday, June 10, Public Art Reston held their fifth annual Chalk on the Water at Lake Anne, a judged competition. Organizers put boxes of pigment-laden sticks in the hands of registered professional-amateur artists, families, and kids of all ages, and directed the artists to use the sections of the plaza as their "canvases." The areas ranged in size from 3-feet-by-4-feet to 4-feet-by-8-feet.
Where first there was nothing, artists worked hour after hour on their hands and knees creating a modern spin to a centuries-old tradition, chalk drawing on the ground. First, they outlined their drawings and then applied large areas of color, blending them to gain the right effect. Next, the artists filled in the details using various shades of colored chalk. Through Saturday's afternoon heat, they worked, and later, when stopped by a dreaded evening shower, the artists rushed to cover their masterpieces with sheets of clear plastic. During the whole process, spectators gathered and watched as one mind-blowing, impressive work of art after another slowly emerged.
THE POPULAR FESTIVAL did more than transform brick pavers into stunning works of art. It brought together chalk artists and spectators in a public setting. The high traffic area allowed hundreds of viewers a chance to see art being created and its evolution. It offered the opportunity for the spectators, some of whom may never have walked into a gallery, the chance to talk with the artists, ask questions and naturally, to praise their works.
On Sunday, the powerful 2D drawing of a lion's face by Brianna Camp caught the eye of many viewers. "I found this photograph on Instagram," Camp said. "I contacted the photographer and received his permission to copy it." Camp acknowledged it was challenging to chalk on the brick, "Because plants are growing in the crevices and I am getting a little sunburned." Camp won 3rd Place in the Professional Artist category, taking home $100.
Erica Fallin of Reston was one of the registered professional artists, a "copyist" recreating the lithograph by M.C. Escher, "Three Worlds." It depicts a large lake with three perspectives, the surface of the water world, the forest world above it and a fish in its underworld. Fallin began her work Saturday evening by outlining all the major elements and then building up the layers and filling in the details. "It's the floating leaves that will give it value (depth)," she said. Fallin won 2nd Place Professional, taking home $175.
Penny Hauffe, also a professional artist, chalked, "Murtle," a vibrant sea turtle crawling out of sparkling water and across the "sand" on the Lake Anne Plaza. In the corner of her artwork rested a radiant starfish, glowing luminescent pink in the light. "It's a cheeky little starfish," Hauffe said, referencing her reaction to a comment by her husband, whose chalk drawing was beside hers. He had good-heartedly teased his wife, telling her that her starfish's brilliant colors drew attention away from his work.

Asked what the purpose of chalk festival was to her, Hauffe answered Chalk on the Water at Lake Anne was a catalyst for something bigger. "We want more people to be excited and motivated to participate in art," she said. Hauffe won Professional Artist 3rd Place with an award of $500.
The 1st Place, Amateur Artist award, went to Maxine Prudhomme, 14, of Reston. She used many of the suggested artist tips that had been provided by Public Art Reston in her winning work. One suggestion described how it might be best to create a focal point for the artwork, a face perhaps, as small details would be difficult to manage on the surface of the rough brick pavers.
WATCHING PRUDHOMME WORK, viewers noticed she moved methodically, creating each section and completing it before moving onto the next. She worked tirelessly yet completely immersed in her art even missing the Awards ceremony, apparently caught up in the joy of creating art. Prudhomme won 1st Place Amateur Artist and a cash prize of $250.
The 1st Place Families & Kids Award went to Faisal Chaudry and his family for their work depicting three very bright penguins. They received a prize of $100.
According to Public Art Reston, judges rated the works based on originality, craftsmanship, composition, use of space, presentation and degree of difficulty.