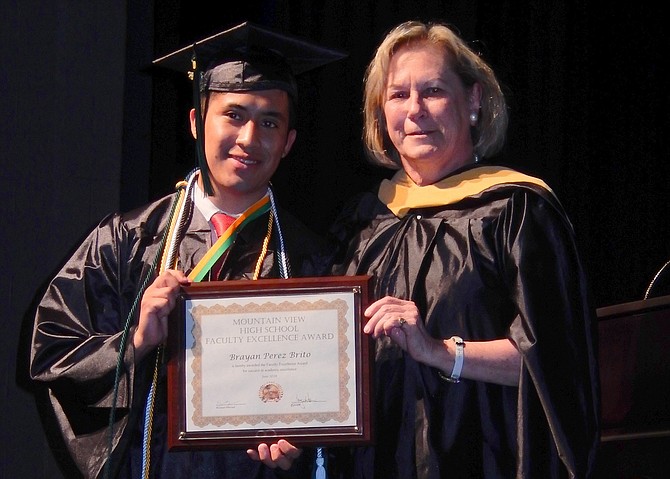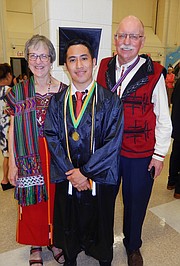 Below is the speech given by Mountain View High Counselor Ellen Fay, last week, to graduating student Brayan Perez Brito before presenting him with the school's Faculty Award.
"Brayan, when you completed your 70-day journey from Guatemala to the United States, you did not know there was another 'Mountain' ahead of you. You said that you memorized one sentence in English when you came to register at Mountain View High School. It was, 'Excuse me, but does anyone here speak Spanish?' And with the help of the amazing [administrative assistant] Tina Perez, who does speak Spanish, you began your high-school journey.
For most students, high school can be a challenge. But when a student is in a new country, without family and not understanding the language or the culture, the obstacles can seem insurmountable.Your commitment to learning and your ability to reach out for support are the driving forces behind your success.
You embraced the Dreamcatcher Program at George Mason University. Searching for work, you found the Centreville Immigration Forum (CIF); and before long, you were not just using the center for resources, but you soon became a volunteer director, using your talents to help others.
You have been an active participant in the Mountain View Family. In the past, you have represented the school at the Superintendent's Round Table, you were a member of the Mountain View student council and president of the school's Environmental club.
On Jan. 19, a snowy, icy-cold day, I accompanied you to the Supreme Court of Virginia, in Richmond, where you were one of three finalists from the 10th Congressional District for the Harry F. Byrd Jr. Leadership Scholarship. This prestigious scholarship is open to every student in a public or a private high school in the state of Virginia. Academics are a factor, but the most important factors are a student's volunteer/leadership service to the wider community. That day, you had to interview before a panel of 11 people.
The following month, Feb. 14, was a proud day for the Mountain View family. Principal Gary Morris drove us to Richmond to see the Chief Justice of the Supreme Court, the Hon. Donald W. Lemons, award you the Byrd Scholarship and hand you a check for $10,000.
Two of your former teachers, Jude Welling and Richard Chinn; your mentor from George Mason University, engineering professor Art Poland; your community mentor, 'Mr. Chuck'; CIF President Alice Foltz and her husband Jerry, along with Mr. Morris and myself, were all there to see you receive this great honor. No other student from an alternative high school has ever won this scholarship. That day, you put Mountain View High School's name on the map.
As it turned out, one of the 11 panel members who interviewed you in Richmond was Tracy Fitzsimmons, president of Shenandoah University. Dr. Fitzsimmons was so impressed by your story that she contacted you and offered you a Presidential Scholarship of $20,000 a year for four years — a possible total of $80,000.
In August, you will go off to Shenandoah University to study one of your many major passions, Computer Science, Engineering or possibly International Relations. Since receiving the Byrd scholarship, you have been interviewed by National Public Radio, Fairfax County Public Schools has made a video about your story and, most recently, Univision of Miami came to Mountain View for two days to film your story.
You recently accepted an invitation to speak at Stone Middle School. A counselor there had read about your story and invited you to talk to their students. Many of their students had shared struggles similar to your own. You were touched by these students who told you that you had inspired them and given them hope. One student even asked for your autograph.
Brayan, you would be the first to give credit for your academic and emotional success to your Mountain View teachers who helped you negotiate, not only your classes, but also helped and supported you as who applied for and were granted asylum in the United States.
Please do not forget Mountain View. Come back when you can and talk with our students. Let them know that a young man who once asked the question, 'Does anyone here speak Spanish?" is now four years later realizing his dreams.
There is a repeating verse from the song, 'New York, New York,' that goes, 'If I can make it there, I'll make it anywhere.' Brayan, you have definitely made it here at Mountain View.
Twenty-five courses with an overall B-plus grade-point average and 10, SOL-verified credits later, here you are at the summit of the mountain. You are a Mountain View graduate. It is an honor, on behalf of the Mountain View faculty, to present to you with the Faculty Award. Go Timberwolf!"