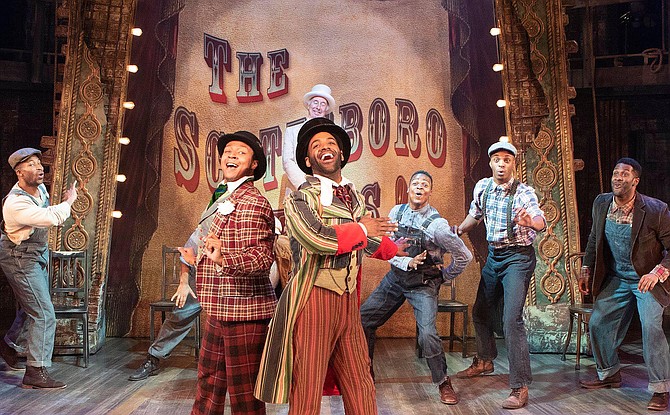 Chaz Alexander Coffin, a 2012 Westfield High grad, recently returned to this area. But he's not just here visiting family and friends — he has one of the lead roles in Signature Theatre's production of "The Scottsboro Boys."
A musical based on a true story of racism and injustice in the Jim Crow South, the show opened May 29 and runs through July 1, and possibly longer. The theater is at 4200 Campbell Ave. in Arlington's Village at Shirlington. For tickets, go to SigTheatre.org.
"It's draped in the framework of a minstrel show," said Coffin. "But it's a hard-hitting, controversial production that touches people's emotions."
While at Westfield, besides appearing in several shows, Coffin also performed with The Alliance Theatre and won a Washington Area Theatre Community Honors (WATCH) award for best actor in Alliance's summer 2011 musical, "Hairspray." He later received his bachelor's in fine arts from East Carolina University and acted in several, professional productions throughout the country. (See sidebar.)
Then in April, he answered a casting call in New York for "The Scottsboro Boys." He initially auditioned for one of the boys, but got the roles of Mr. Tambo and the boys' defense attorney.
It's the true story of nine black young men, ages 12-19, who were riding on a freight train in northern Alabama in 1931, en route to Memphis to find jobs. A fight broke out between black and white youths, and the nine blacks plus two white women were rounded up. Someone said the word, "rape," and the boys were pulled from the train and taken to the nearest jail — in Scottsboro, Ala.
Their story made national news, was sensationalized by the Southern press and spurred the involvement of the NAACP and the ACLU. A prominent New York defense attorney took their case, pro bono, and the boys became a symbol of American injustice.
Tambo is one of two minstrel clowns moving the show from one scene to another with one-liners and the shake of a tambourine. "There's something special about African-American men onstage telling their stories," said Coffin. "We also portray the white sheriff and prison guard, and it's interesting being blacks playing whites who oppress the show's black characters."
As the defense attorney, Coffin portrays Samuel Leibowitz, considered an outsider because he was a Jew from New York. "This role resonated with me the most, because Leibowitz was the good guy and has more of an impact than the other characters I portray," said Coffin. "I also have a song and talk really fast."
Although it's a musical, he said "The Scottsboro Boys" is "a different dynamic. It holds a mirror up to the audience and makes them uncomfortable watching it. And they should be — because nothing about what happened is OK. Nothing about a minstrel show should be easy to watch, and it makes the show even more powerful because this is actually what happened."
This musical came on Broadway in 2010; and in 2013 — long after they'd died — the state of Alabama pardoned the boys. "This show is, without a doubt, the most influential and significant production I've ever been fortunate to be a part of, because of its relevance today," said Coffin. "In our current political climate — and with our given history of police brutality — people come to the show and have a real, visceral reaction to what they're watching."
"Those who don't know about the story learn a shocking history lesson," he continued. "And those who knew about it see that it's still happening today. People also have post-show discussions; they ask us how it feels to be an African-American putting on this story and how we feel about its current-world relevance."
Coffin's life journey has been markedly different from those of the Scottsboro Boys. But still, he said, "Every day, something else happens that brings me even closer to this show. When rapper Childish Gambino's song, 'This is America,' came out recently, that directly reminded me of what I'd been seeing my whole life — the target on my back. I'm not entirely safe."