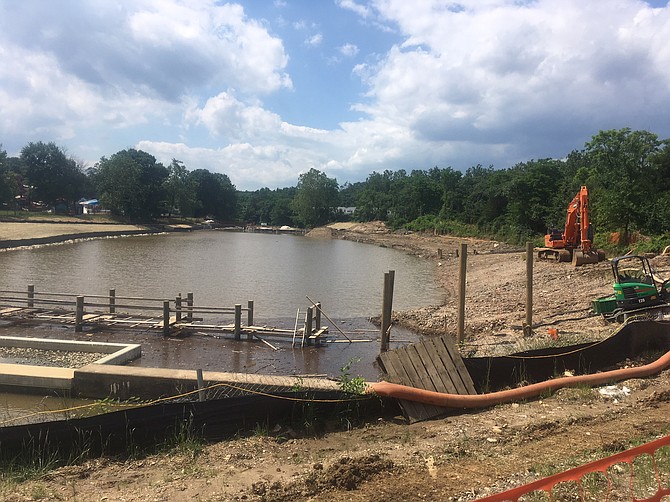 At Lake Cook off Eisenhower Avenue, there are winners on all sides of the Stormwater Management Retrofit Project currently underway. For the city environmentalists, the project will retrofit the lake with a sediment forebay to lessen the nitrogen and phosphorous that eventually end up in the Chesapeake Bay, and for the recreation enthusiasts, the new Lake Cook will have paths, a boat pier and fish, reestablishing a noted recreation facility in the City of Alexandria.
Even taxpayers get something – the Virginia Department of Environmental Quality awarded the city a $1.5 million Stormwater Local Assistance Fund grant for this project, so city taxpayers were responsible for only $2.7 million of the $4.2 million price tag.
"When the water goes out, it will be cleaner than when it comes in," said Jesse Maines, division chief, stormwater management at the City of Alexandria.
According to the city, the upgrade to the lake treats stormwater runoff to help meet Chesapeake Bay cleanup mandates and protect downstream waterways. The water from Lake Cook is channeled under Eisenhower Avenue and into Cameron Run. This is in tune with the City of Alexandria's Eco-City Action Plan to clean waterways in the city. It is part of the city environmental action plan 2030, which was enacted years ago to implement the Cameron Run/Holmes Run feasibility study to improve biotic integrity and water quality.
The "sediment forebay," that Maines highlighted, acts as a filter. "Sediment has phosphorus so if you're removing sediment, you're removing phosphorus," Maines said.
The lake improvements will also have an improved look for the art enthusiasts too. As part of the project, the City of Alexandria Public Art Program has selected artist David Hess to join the Lake Cook design team to integrate public art into the retrofit project. Hess, a sculptor from Baltimore, was one of hundreds of artists that responded to a nationwide call, and he fit the requirements on the city's "request for qualifications," said Sara DeGroot, environmental specialist at the City of Alexandria.
When the project is completed this summer, the shore will be landscaped with native plants to discourage geese and provide habitat for riparian birds and animals.