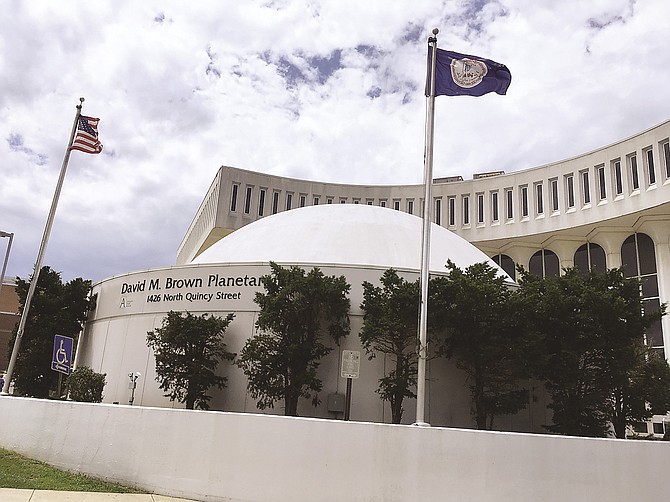 Space exploration is part of the history of Arlington's only planetarium. A few months after American astronauts Neil Armstrong and Buzz Aldrin landed on the moon on July 20, 1969, the Arlington Planetarium opened at 1426 North Quincy St. In 2008, almost 40 years later, it was renamed the David M. Brown planetarium in memory of National Aeronautics and Space Administration (NASA) astronaut and US Navy Captain David M. Brown who died in the 2003 explosion of the Space Shuttle Columbia. The planetarium was named after Captain David M. Brown who lived in Arlington, graduated from Arlington's Yorktown High School and was buried at the Arlington Memorial Cemetery.

Almost 60 years since it opened, the David M. Brown Planetarium with its 30-foot dome continues to serve the community with multimedia programs for children and adults. Owned by the Arlington Public School system, the planetarium almost closed because of funding concerns but was saved by fundraising efforts led by the Friends of the Arlington's David M. Brown Planetarium. The money raised was used to improve the planetarium's facilities, including new seats, a projection dome and a high definition projection system in 2012. The planetarium is one of the 25 planetariums in Virginia listed in the Worldwide Planetarium Database.
Aside from offering science programs, the planetarium has hosted decidedly non-science events. The wedding of Andrew Kuchling and Barbara Mattson was held at the planetarium's Sky Theater on Sept. 19, 2004. The planetarium also partnered with Arts in Arlington to present Full Dome Projections where new artists created digital art that was projected to its dome in 2017. This year, Jim Thorne and the MoonDiggers held a live concert performing children's songs as part of the Friends of the Arlington's David M. Brown's programming.
Stars Tonight, the last program for the summer will be held Money, July 2, at 7:30 p.m. David M. Brown's Planetarium Director Jonathan Harmon will be presenting highlights of the July and August night skies. The program has three parts: a slide show about current and recent sky events and phenomena, a short full dome show, "Losing the Dark — about light pollution," and star hopping the current month's night sky. The show is not recommended for children under 10 because of the length and the lecture format. There are 58 seats available. The doors open 15 minutes before show time. There is no admittance once the show begins. There is an admission charge of $5 for ages from 13 to 59, $3 otherwise. Only cash or checks are accepted as payment.
Regular programming will resume in the fall. Stars Tonight will show on Sept. 10. The public shows resume Friday, Aug. 24. Friday/Saturday evening shows are general audience programs geared for adults. Only Sunday matinees are specifically targeted for younger children.