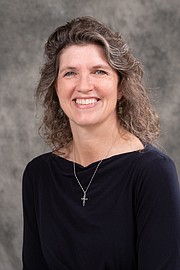 Pastor Emily D'Andreas is the "daughter of a preacher woman – and granddaughter of a preacher man" as the Dusty Springfield song proclaims. "I saw first-hand what being a minister is – and was thrilled when I felt the call to spread God's love and to understand it clearly," said D'Andreas. She grew up in West Hartford, Conn. observing and helping her mother who was the pastor at the United Church of Christ and her grandfather who served as a Baptist minister.
D'Andreas is both excited and pleased with her new calling to be the pastor of Potomac Presbyterian Church. She only has to venture across the Potomac River from her home in McLean to her new church — her third in the Presbyterian ministry. She was formerly at Lewinsville Presbyterian and Burke Presbyterian — thus has not had to venture far in her career moves. D'Andreas comes with a wealth of experience and a strong desire to bring "joy in faith" to the members of the church. Educated at both Princeton and Davidson College, she also enjoyed the opportunity to study other cultures and ministries throughout Asia and Europe. She is looking forward to introducing her husband Paul and children Beverly and JohnPaul to her new congregation.
"I feel the first three months are a listening period," D'Andreas said. "I want to take time to understand the culture, what's alive and happening and where I should put my energies. So far the congregation has been amazingly welcoming. However, with every new assignment, I think it is important to have several goals in mind. I am hoping to help my congregation share what is life-giving about their faith and how they want to serve Christ. People are sometimes reticent to talk about Jesus and to express their faith and I want to help them do just that. I also hope to cultivate the high energy here and level of willingness and desire for service. Part of my call to preach the gospel joyfully and I will work to be a strong preacher. I am also looking forward to getting to know the interfaith community in Potomac and to build relationships within the community."
Last week — her third week with Potomac Presbyterian — D'Andreas traveled with 18 youth and four adults from the congregation to the Raleigh Youth Mission in Raleigh, N.C. Every day they visited a different service organization and worked alongside of volunteers serving under-served communities in Raleigh.
"We sought ways to live out the Biblical mandate found in Micah 6:8 '. . . what does the Lord require of you but to do justice, love kindness and walk humbly with God' by working with refugees, visiting an addiction rehab center, working on a Habitat for Humanity work site, and eating at the co-operative, 'A Place at the Table' among other things," she said. "It was a full immersion experience and a great way to get to know the youth and young adults at Potomac Presbyterian. Community is formed whether you realize it or not, when you are sleeping on air mattresses on a church classroom floor and sharing close quarters with people you have just met."
She is looking forward to the September kick-off of the Sunday School educational program as well as the adult programs in the church. She invites all to come to the church services at 11 a.m. and/or to the Sunday School programs at 9:45. Additionally other programs for youth and adults will be starting back up in the fall.