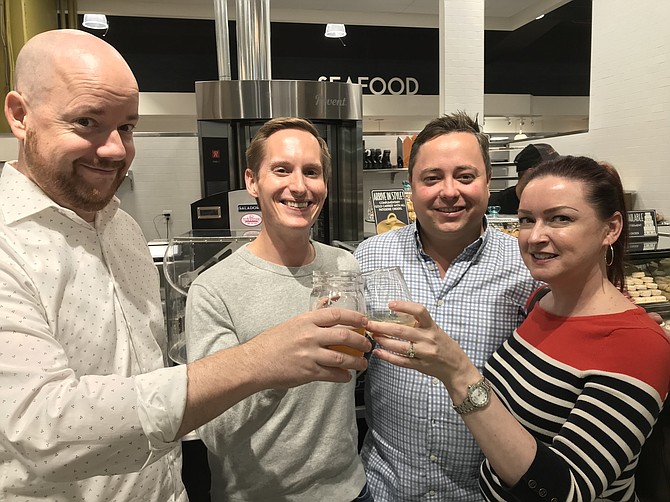 With a gilded touch of gourmet delight, Balducci's Food Lover's Market opened the doors to their newest location at 1871 Fountain Drive, Reston on June 22. Earlier that morning, individuals, couples and parents with small children had begun lining up on the sidewalks outside the market, ready to experience for themselves the first day of the week-long Grand Opening celebration with food tastings, chef demonstrations, wine pairings, the infamous beer crawler bar and 10 percent off total purchases
When the doors opened, patrons happily crowded Balducci's market creating a party-like atmosphere. While most shoppers took a quick culinary tour before putting anything in their small carts, the staff talked quality, taste and memorable dining experiences when asked about given products.

The bubbly flowed as staff sabered a bottle of Champagne, and chefs created dishes that showcased the best of the season to be enjoyed in the Baldacci café or carried home as an effortless meal.
Later in the evening, Daniel and Jennifer Griffin and Vincent Grady and Barrett Tucker prepared to have a little fun in the market. Tucker said, "Nothing could have stopped me from coming to the Grand Opening of Balducci's Reston, because I knew that they would offer culinary delicacies not currently offered in Reston."
Griffin said, "We wanted to have a drink and check out what they had to offer." Tucker said he wanted to sample and then purchase a quarter pound of what he termed, "To die for," gourmet Iberico ham. "It's from acorn-fed hogs."
Jason Miller is the Corporate Executive Chef at Balducci's. He described the sought-after Iberico ham. "It's Black Label, the highest grade," Miller said. "This is a labor of love... It's meat butter." When Joshua Heit of Reston tried the ham, he declared, "That's a WOW one."
Rick Michener is the seafood buyer for Balducci's, committed to sustainability and offers both farm-raised fish and wild fish. "Our Wild Blue Catfish tastes eighteen times better than farm-raised," Michener said. "We are inspired to keep our bay alive." The Blue Catfish is an invasive species in the Chesapeake Bay, producing a high number of eggs and eating blue crabs and other fish. Michener pointed out that there is no better way to control the invasive fish than to eat it. "It's one of tastiest catfish one can ever eat," Michener declared.
Adrienne Wyman of Reston stopped in the wine aisle. "My first stop is the wine shelf," Wyman said as she pushed her small cart. "We wanted to get the ambiance and to see if this could be a destination."

Balducci's is strategically located on the ground floor of the Signature Luxury Residences at Reston Town Center.
THROUGH JULY 1, and as part of their Grand Opening celebration, Balducci's guests will receive 10 percent off their total purchase.